oh my goodness everybody! Haven't been around here for a long time! A lot's been going on, but I finally made it — I found five things that I'm letting go of this week. Here's one of them…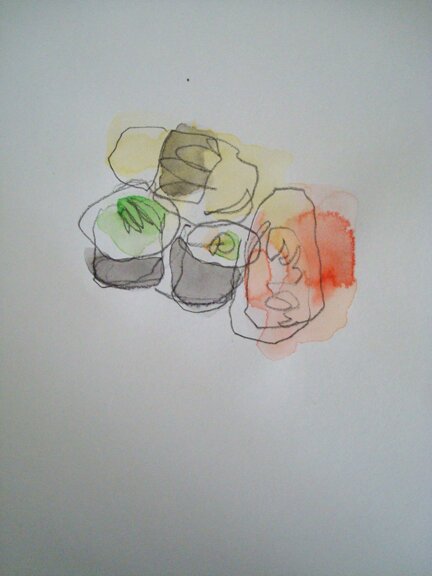 It's a set of crocheted sushi I gave to Mike years ago, might have been before we even started dating. They've come back to my possession after we were married, and they have been sitting in a corner collecting tons and tons of dust. They weren't very well-made (the hook I used was too big and I used mostly double crochet stitches rather than single crochet, so they're a bit wobbly), and I've since made lots of things for Mike that are in better shape (like groundhog, young kraken, peas, and donut, just to name a few). It's hard throwing out things with a lot of fond memories attached to them, but letting go makes space for new things.
Other items:
A pouffy wine-colour skirt, a pair of slippers I never wore, a crochet lace hat, and a very special crochet neck warmer called Giraffe.
Giraffe the neck warmer is very special because I'm going to give it away on this blog! :D I still have to take better photos of it, more details to come soon!
Until then, be sure to check out Mike's post this week in the parallel blogiverse!
Take care, everyone!