Accord­ing to our Hoops and Yoyo cal­en­dar, Sep­tem­ber is break­fast month! It is also back-to-school / end-of-vaca­tion month! So! Mr. Mini-Wheat is here to help stick moti­va­tion­al mes­sages on the fridge.
It is, as you might be able to tell, inspired by the talk­ing frost­ed Mini-Wheats. I'm not a big fan of Mini-Wheat myself (a bit too fibery for me), but I'm extra fond of these talk­ing Mini-Wheats because they remind me of the com­ic strips Mike used to draw.
I made a reg­u­lar sug­ary one and a straw­ber­ry one :D It would be fun to also make the brown sug­ar one and the new blue­ber­ry muf­fin flavour.
Here's what I used:
Heavy duty jute twine (I would like to use a thin­ner twine, but that was all I could find at the dol­lar store).
6mm and 5mm hooks.
A small square of white felt, and dou­ble lay­er of a bit of pink fab­ric cut from a retired t‑shirt (because I did­n't have pink felt).
Sewing thread in black, white, and pink.
Sewing nee­dles.
Two mag­nets.
And here's what I did:
Twine is very stiff and knots can become undone eas­i­ly, leav­ing a longish tail in the begin­ning pre­vents the piece from com­ing apart. Also, I cro­cheted rather loose­ly through­out because the stitch­es are more tight when doing rows of slip stitch­es and, on top of that, twine does­n't stretch.
Leav­ing a tail about 4″ long, ch 6.
Row 1: ch 1, sl st in each ch across through back loops only, ch 1, turn.
Row 2–4: sl st in each sl st across through back loops only, ch 1, turn.
Row 5: sl st in each sl st across through back loops only. Leav­ing a tail about 12″ long for sewing, fas­ten off.
Now I have a rec­tan­gle. It will be fold­ed in half and the short sides sewn together.
Then I cut out small pieces of the white and pink fab­ric and embroi­dered faces on them with black thread.
I then sewed the frost­ing faces onto the cro­cheted pieces before fold­ing the pieces in half and sewing the side edges together.
I actu­al­ly did­n't quite "sew" the edges togeth­er. Because I did­n't have a nee­dle with a big enough eye, I used the small­er cro­chet hook to thread the tail through the loops down the edges.
I only "sewed" one side togeth­er, leav­ing the top and bot­tom seams open. I weaved all the loose ends into the top and bot­tom openings.
And then I attached a mag­net on the back. And here they are, on the fridge! (They're about 1″ tall.)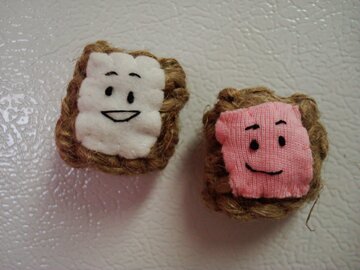 And a moti­va­tion­al mes­sage wait­ing to be found…
Hap­py Sep­tem­ber, everyone!