Last weekend was a very full one! We went to a farewell party for iconic Honest Ed's, organized by Toronto for Everyone.
If you've ever visited Toronto, you might have been to Honest Ed's. That was where I like to take out-of-town friends to impress them anyway. It is an enormous department/bargain store that literally invites you to get lost in it. Literally because there is a sign on the building that says: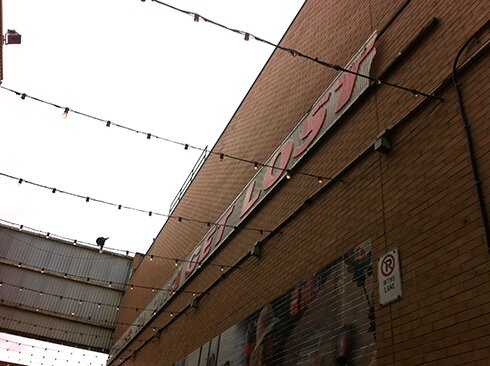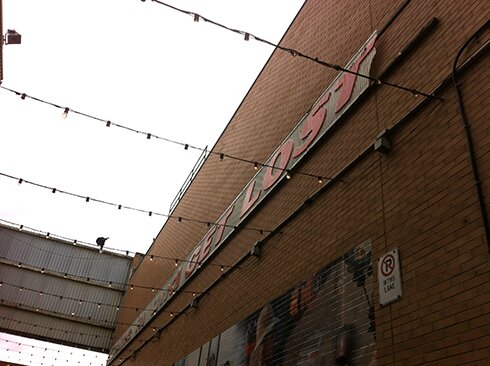 "COME IN AND GET LOST"
Lost partly because there was SO much stuff! And so much really different stuff, all kind of organized in a maze-like formation. If you were there for the first time and looking for something specific, you'd probably get kind of frustrated, but then quickly distracted by the cheesy slogans hand lettered in cheerful colours everywhere.
But if you were like me, who lived right across the street from Ed's for a while and then continued to shop or meet people in the neighbourhood, you'd know exactly where to get the 99 cents loaf of bread and tinned fish for lunch, or bandannas for a sewing experiment (and this!), or those 2 dollar waffle shirts for days that turned cold suddenly, or large quantity of t‑shirts for summer camp, or socks, or just to get another picture of that giant plush moose head on top of a grandfather clock with its eyes popping out, or to kill time, or escape from reality for a couple of hours in the evening.
Honest Ed's was named after it's owner Ed Mirvish and opened in 1948. As noted on Toronto for Everyone:
"Beyond his bargain prices and punny ways, Ed was known for his ability to bring people together and build community in wacky ways: roller derbies, 72-hour dance marathons, free turkey giveaways, to name a few. Perhaps most important of all, Honest Ed's was a model for inclusivity. Everyone, no matter how you looked, what you did, or how much you made — was welcome at Ed's. Whether you made a purchase or simply enjoyed walking around and browsing everything from kitchenwares, clothing, toys, fabrics, to knick-knacks (SO MANY knick-knacks!), Ed's had a way of instilling wonder and making you feel at home."
And from the Jane's Walk that we participated in (more on that later), we also learned that he offered very affordable rental spaces — and they remained affordable despite the rapid increases in rental costs everywhere else in the city — to artists and artisans in the surrounding Mirvish Village.
There was no place like this place.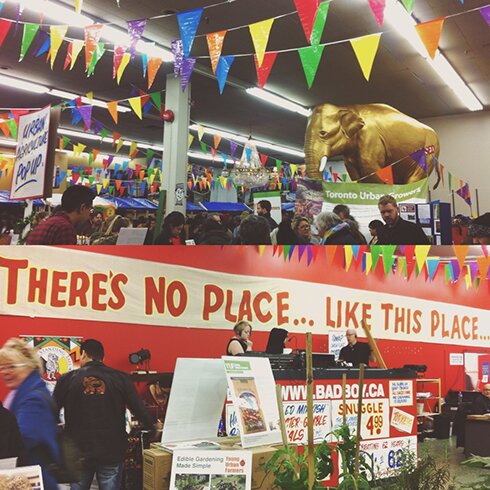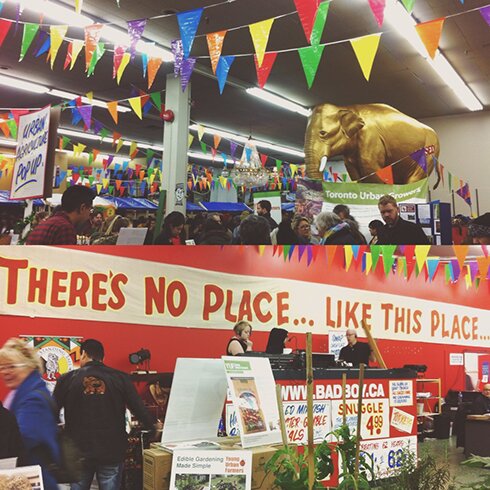 And so a group of good people brought more good people together and organized one last very vibrant marketplace in honour of Honest Ed's.
The juxtaposition of vintage glassware and underpants very much captured the spirit of what this place was.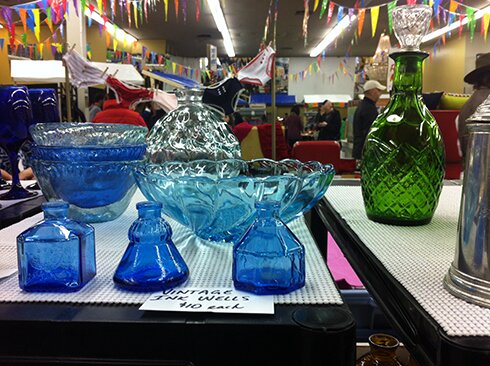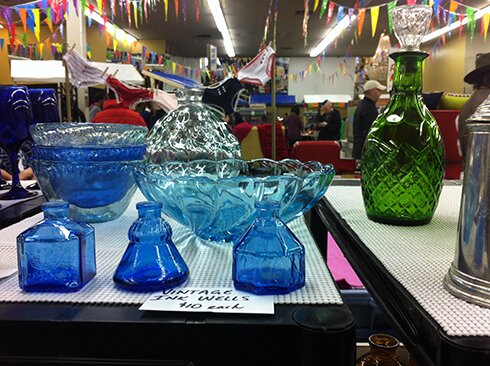 The artist who hand lettered all the signs for the store over the past years was there painting custom signs for visitors.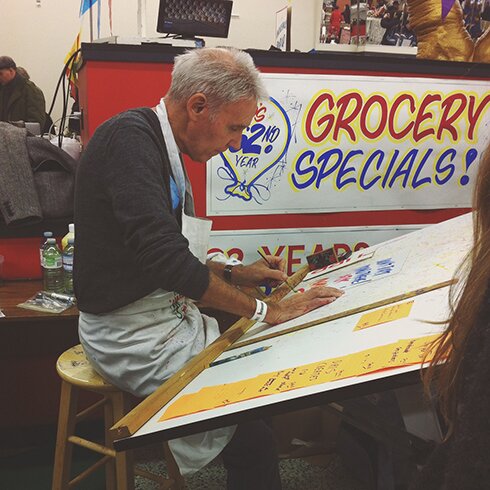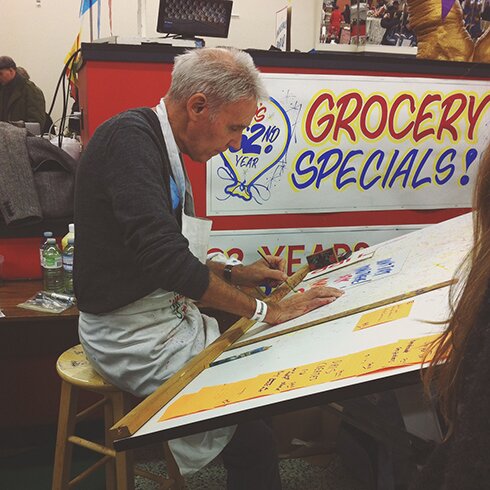 In 2014 when the news first came out that Honest Ed's will be closing, there was a sale for all the hand lettered signs used in the stores. So my friend and I went there and lined up for over 5 hours and each got ourselves a few signs. One sits in front of my desk at home, it says "holiday coated marshmallow biscuits * 99 cents". Very special because it's got stars on it and they don't make pennies anymore!
In a different part of the building there was a community hub, where one could sprawl out and read all the Sunday flyers…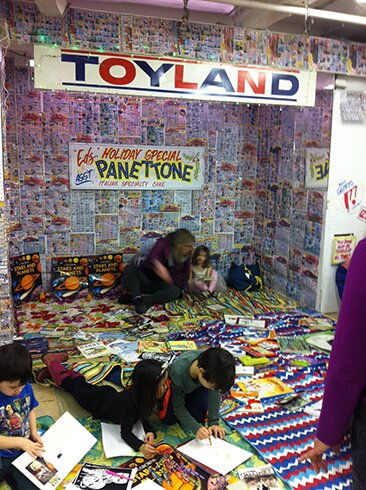 … and very smiley policemen do yoga with the kids.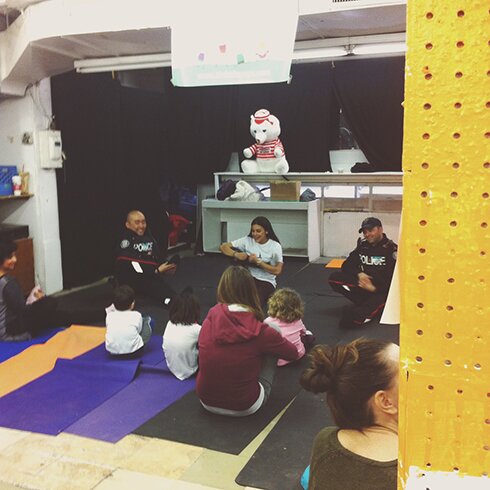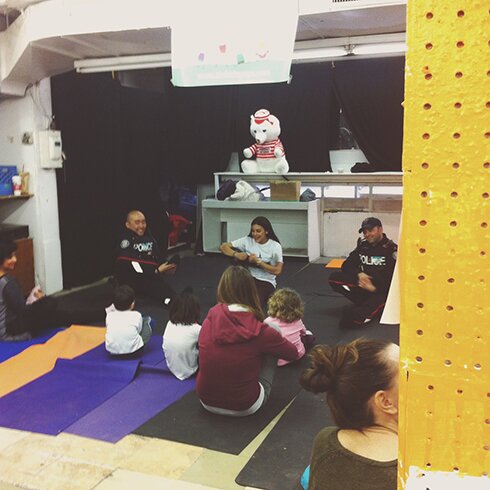 Mike and I were most looking forward to the retro ice cream social. (and you can see there is a setup for music or spoken word performance in the back)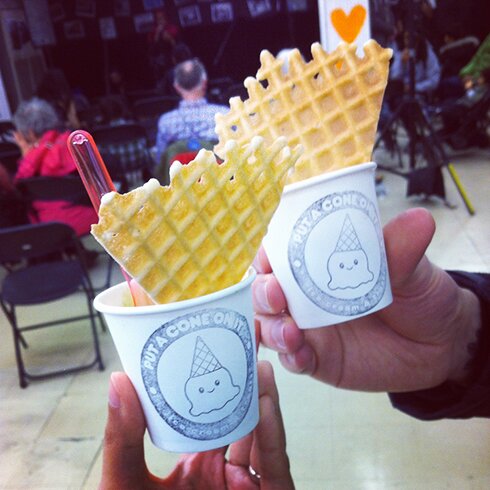 And intuitive painting! :D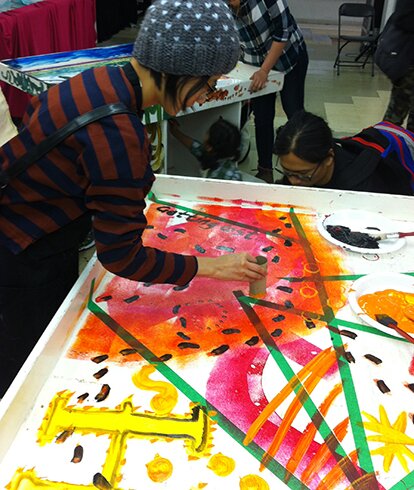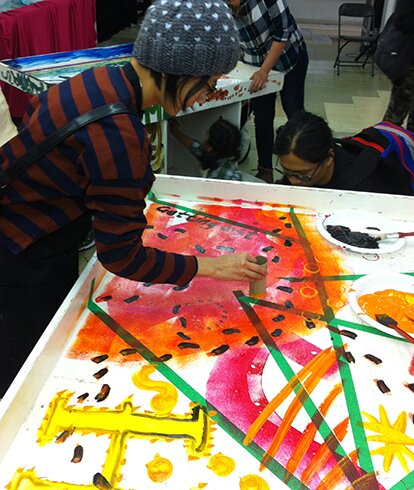 People were invited to paint on merchandise tables. The theme of our table was Honest Ed's.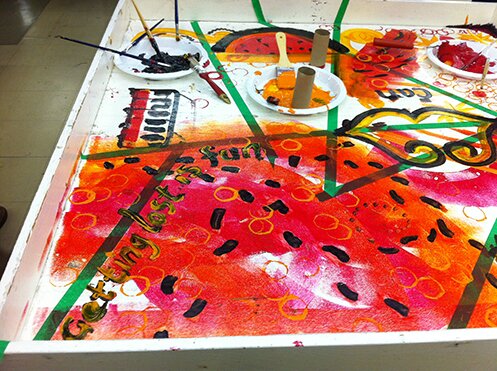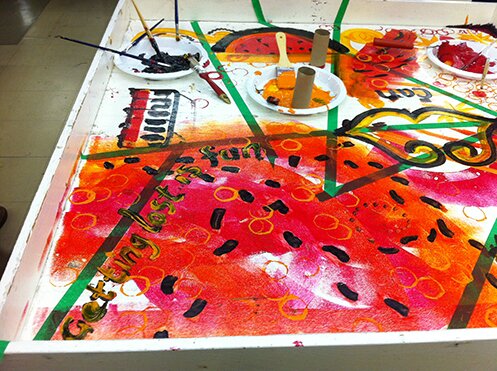 This was our work! The black dashes were meant to be foot steps but it's all getting a bit lost there… that was the point I guess :) And Mike painted the streetcar.
This was under our work by someone else very talented.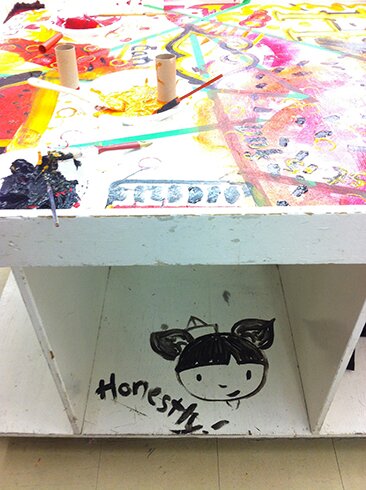 Then we participated in the Jane's Walk in Mirvish Village, where a number of previous tenants spoke about the changes they experienced after the city block was bought out. At the end people who went on the walk also shared their stories of Honest Ed's and Ed Mirvish. There were definitely expressions of sadness about seeing such important part of the city go, but there was no anger, or bitterness, just the acknowledgement that everything good will inevitably come to an end, and there is hope that what is coming will carry on the legacy of embracing diversity and inclusiveness, and the space will continue to bring people together.
In fact, you can see the vision for the new Mirvish Village here.
After saying goodbye to Honest Ed's, the next day we went to the Warming Toronto knitting day. Here's the hat I finished :D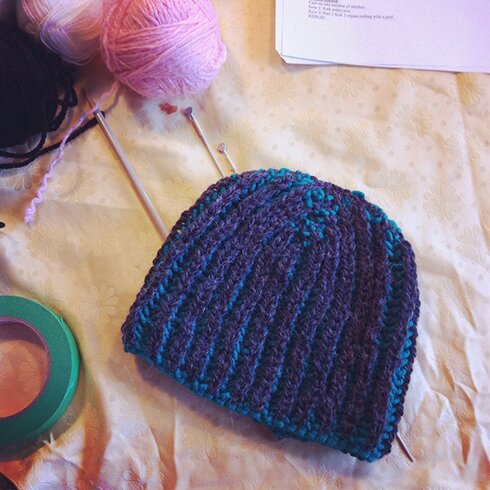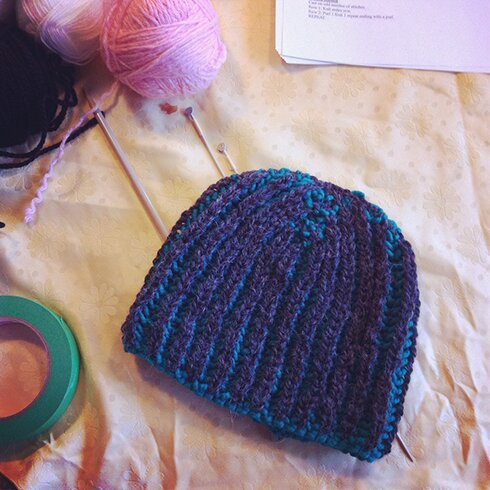 It's a two-colour fisherman's rib hat that was knitted flat and seamed together. I learned the 2‑colour rib pattern from this Craftster post. The decreases are not very neat at all, I'll learn how to do proper decreases with this kind of pattern next time.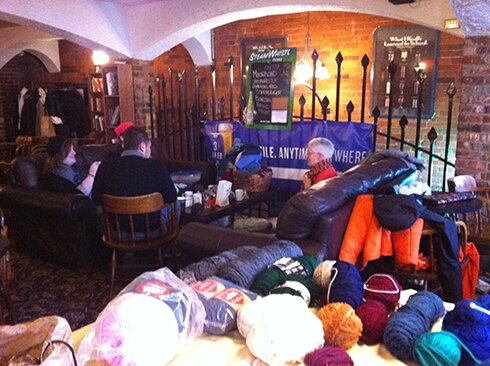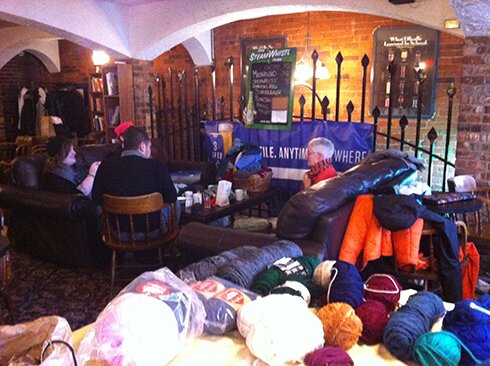 It was a very relaxing afternoon of knitting and hanging out with people who knit :D If you live in the city, the project is still collecting hats and scarves till March 26! The organizer can arrange for pickups along the subway lines. Check out the Facebook event page for details.
Have a lovely week, everyone! :D