Some of the gifts I made for Christmas :)
This was from a pattern by the Knit Cafe, I got it while participating in the annual TTC Knitalong. I don't usually knit with such fine yarn, so it took me quite a long time, but the result is well worth the effort!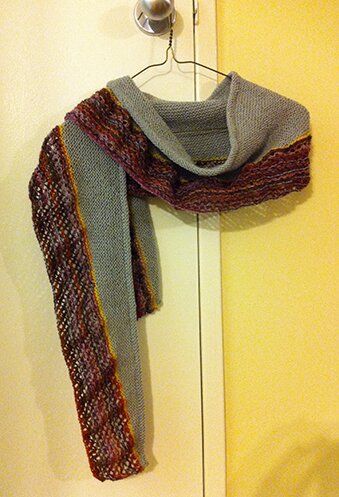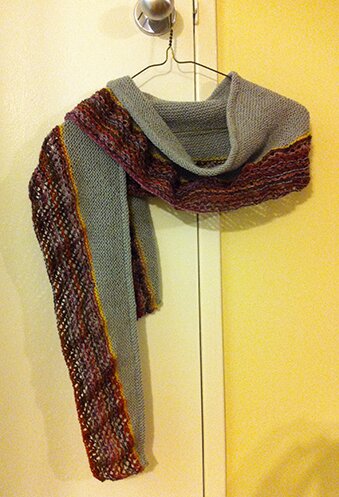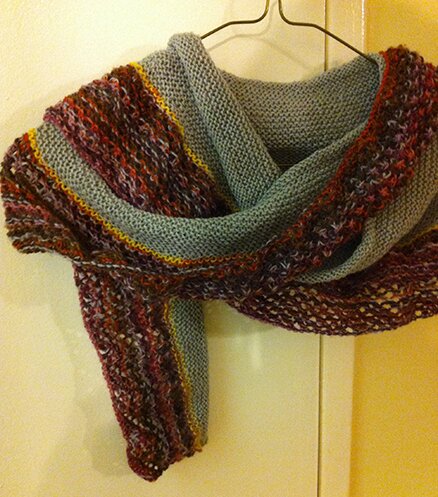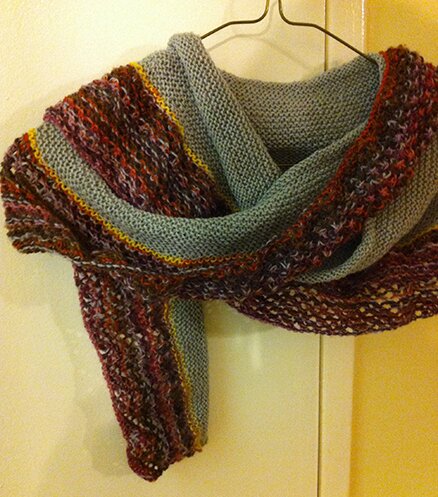 I like the contrast between the solid garter stitch and the lacy mesh stitch when it's all wrapped around. Might make another one sometimes, with a different colour combination :)
Here's a much quicker project I made for Mike, using Bernat Blanket. It's quite a soft but sturdy yarn with very little stretch, I thought it'd be perfect for slippers. The pattern is from Rainbows and Sunshine. Fits him perfectly! :D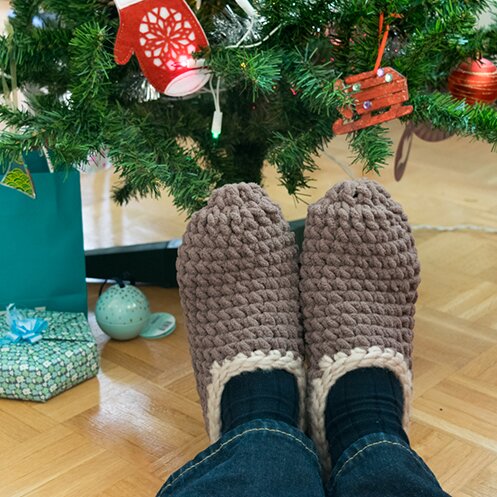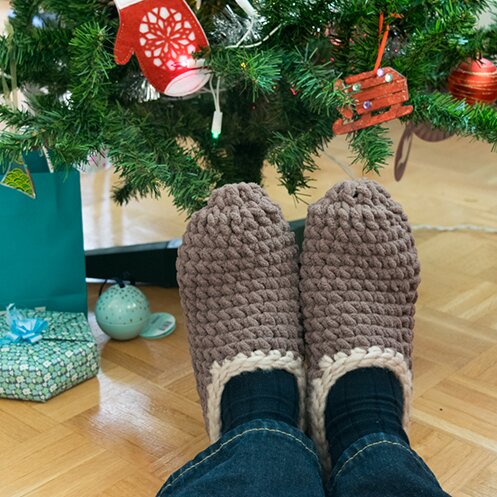 This bonnet was finger knitted on the plane, on our way back from the east coast, with a skein of beautiful Sirdar Kiko. It's a baby shower gift I made it for a friend who used to work as a flight attendant on the airline we flew with :)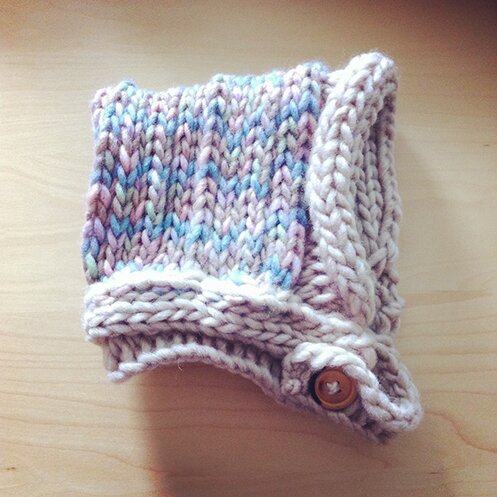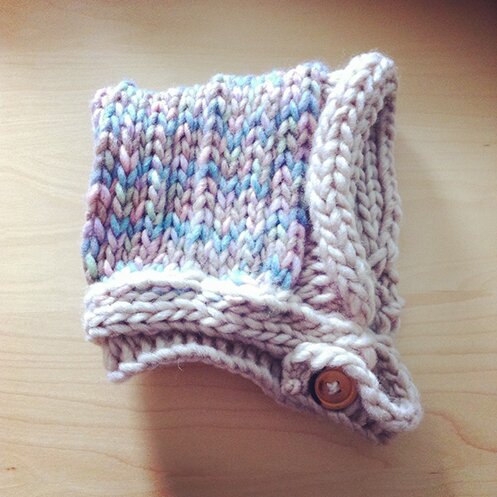 This is one of the stones from Mike's grandpa's collection, which I wrapped with wire and made into pendants. Mike's grandpa passed away a few years ago. He was quite a semi-precious stone and fossil enthusiast when he was young!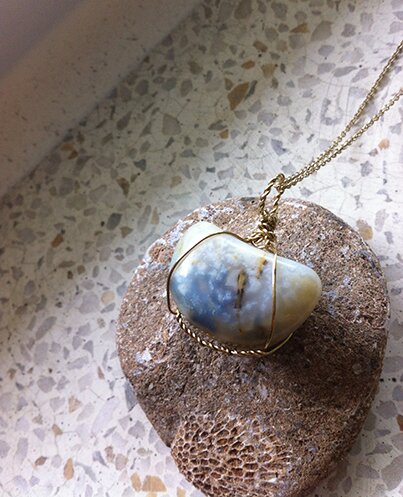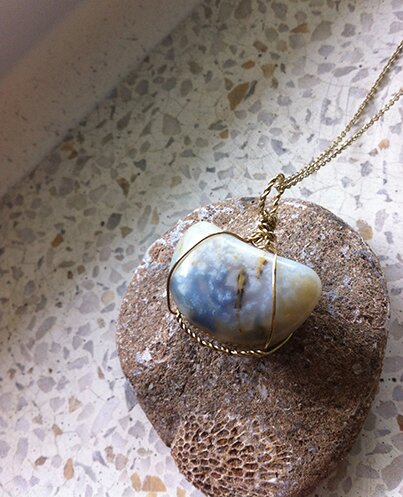 I'm not educated in stone identification at all, so if anyone knows what this stone is, please feel free to drop me a note! I made a total of 13 pendants for aunts and cousins, but I was too excited about wrapping them up and writing notes to go along with them, I neglected to take pictures of the finished necklaces. I followed this handy tutorial for the wire-wrapping.
While visiting Mike's parents we looked through more of grandpa's rock collection, including this piece of petrified wood, with transparent inclusions! How cool is that?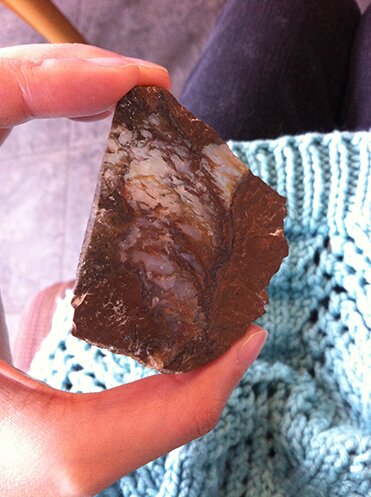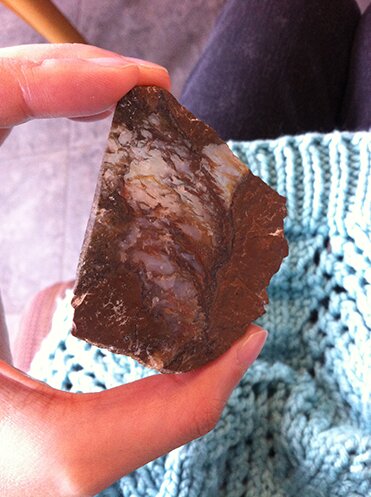 Look at the light shining through. Maybe it can be made into a sun catcher.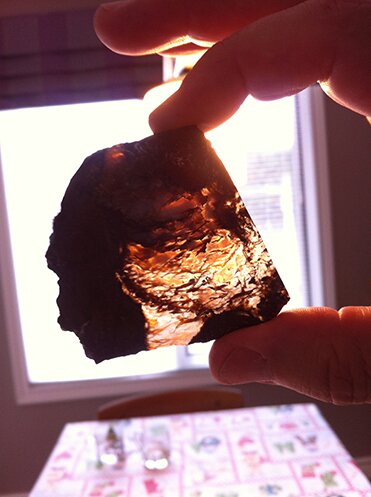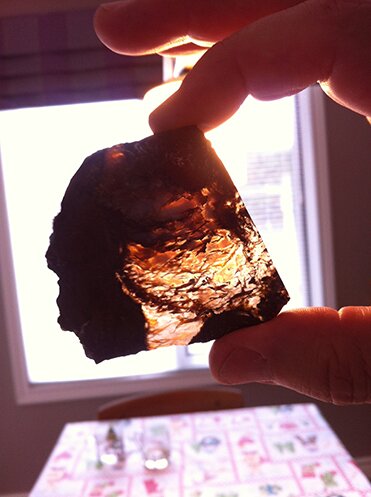 And here's my young nephew wearing his present :D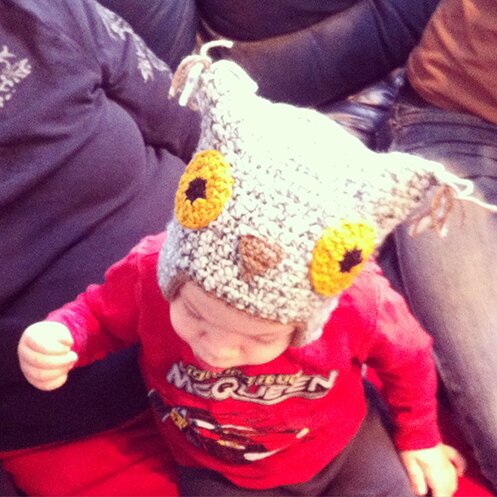 I followed the owl hat pattern by Kat Goldin. Also made these owl mitts from Down Cloverlaine for my other young nephew, this pineapple bag for my niece, a couple of knit neckwarmers/cowls that I made up with bulky weight yarn, this casserole carrier from Moogly for my mother-in-law, and a couple more projects that I can't show you just yet because the recipients haven't opened them :)
After making gifts I thought I'd spend the holidays making something for myself. I recently started on this sweater from the current issue of Interweave Crochet. Here I am drinking tea, eating Kinder eggs, and watching family play scrabble while I crochet — holiday at its finest :D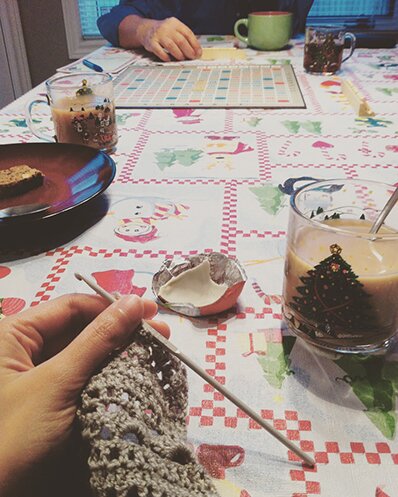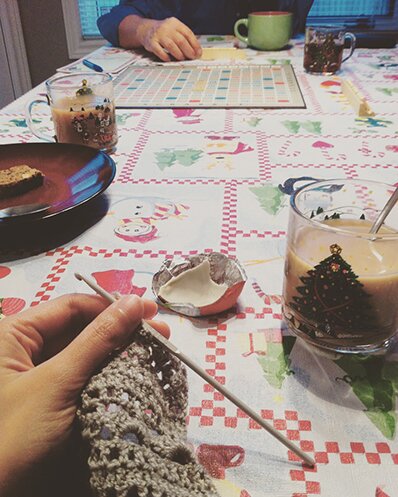 We've also got some very unusual weather in our corner of the world this Christmas. It's not unusual to not have snow, but it was warm enough to find these turkey tails (I think that's what they are) in the backyard!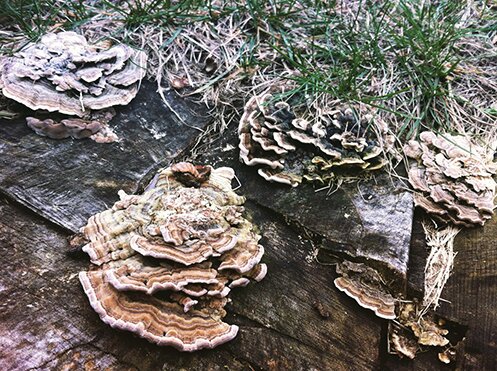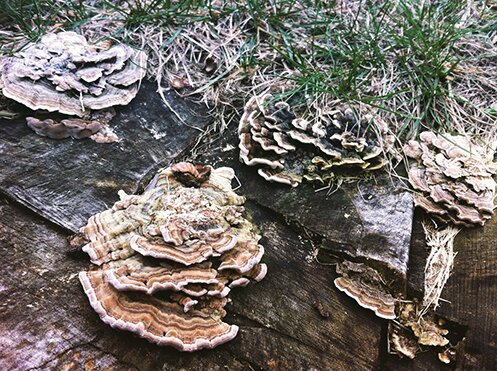 Happy about the fungi sighting, at the same time a bit uneasy about the double-digit temperature :S
Then on the weekend it was very windy, with water splashing onto the lakeside road. Reminds me of the roaring sea in the east coast! I don't think I've ever seen the lake with waves like that, but then I don't see the lake very much from where I live.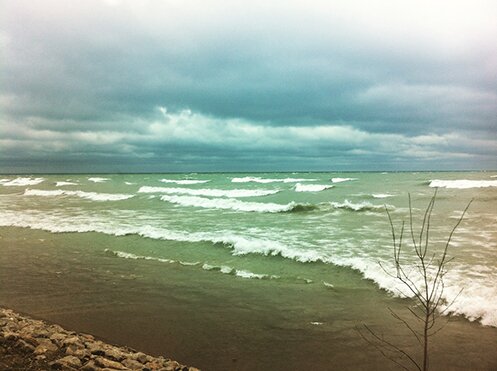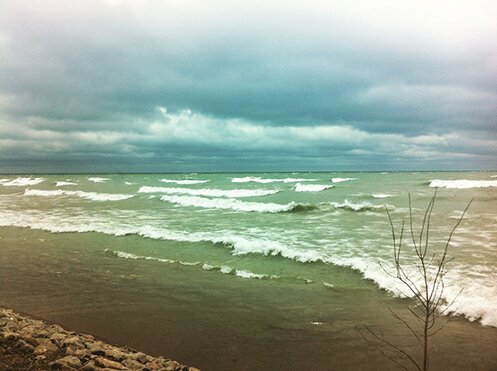 But all in all we had a fun time away from the city visiting family. And I'm grateful to have one more week of holidays until the new year, which means more time to write about crafting fun here on the blog! :D
Wishing you a wonderful week!