Mike and I were travelling in Nova Scotia over the past week :D We had a magical time driving through the mountains, marveling at the sea and chatting with very friendly locals. I will share more pictures about our trip in other posts. But first, yarn! We first stopped in Halifax (where I was actually attending a conference before we rode off to the sunset and the sea and fun times), and not far from where we were staying is The Loop!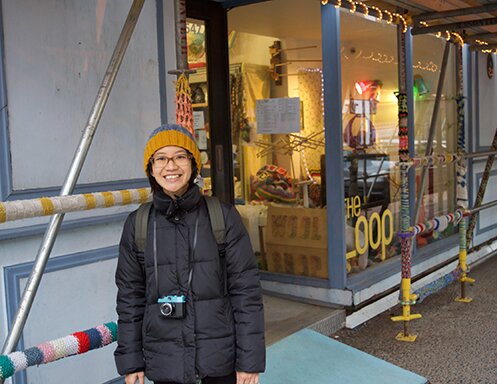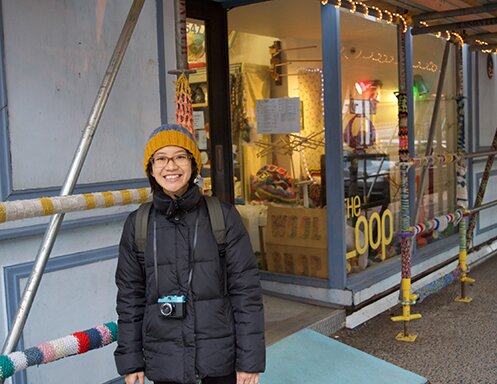 There's been some construction going on in front of the shop, so guess what? The scaffolding gets some new sweaters! :D
I bought a skein of locally made wool there, by East Anchor Yarns, in lovely shades of blue/green and pale yellow. (The friendly shopkeeper let me know that the other skeins with shades of pink were dyed with newspaper! Who knew black ink will turn yarn pink? She also helped me with winding the skein into a ball so I can start using it right away :D)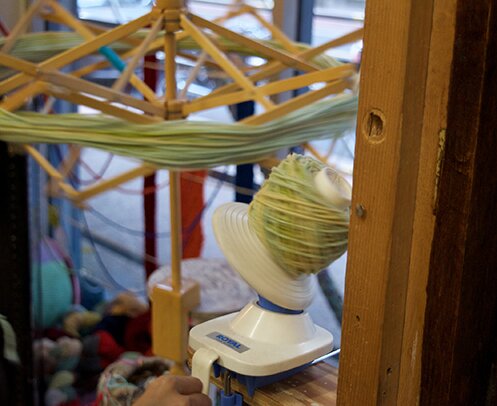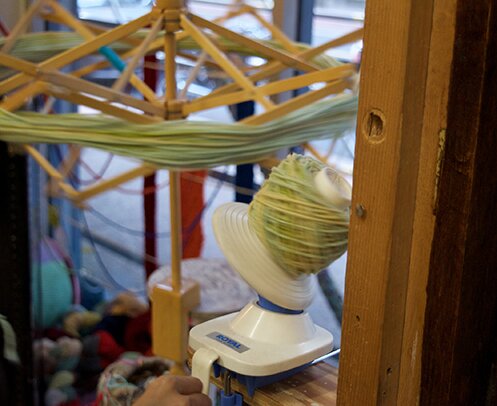 And so during lunch time at the conference and on the way to Cape Breton Island I was finger-knitting :)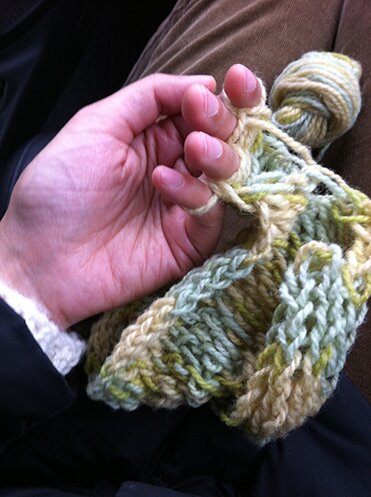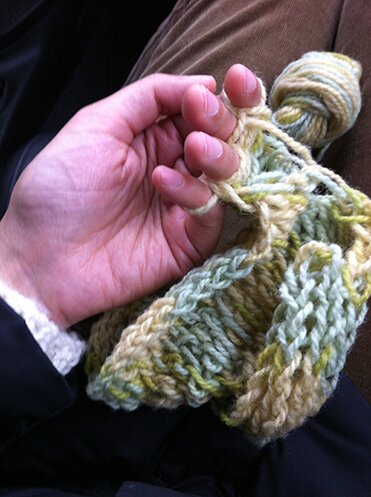 Can't show you what I was making yet, because it's a gift. I thought it would make a pretty special souvenir to buy some local yarn and make something during the trip! I might even write a pattern for this project, it's super fun for travelling :D
I could have brought the project I was working on at home, but because I mostly knit with straight, long (and metal!) needles, I was doubtful about bringing them on the plane. So I figure I'd finger-knit!
We were staying in Baddeck while visiting Cape Breton. I didn't know that the village has a yarn store until we spotted the bright pink sign on the way there. Baadeck Yarns! This is the best surprise ever! :D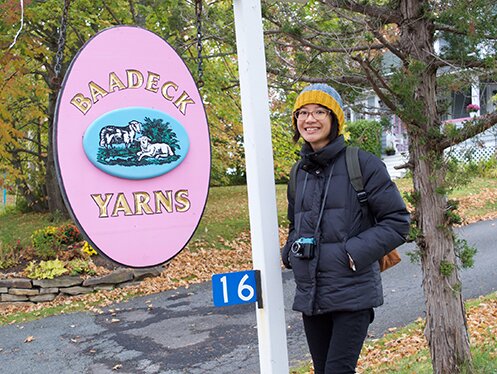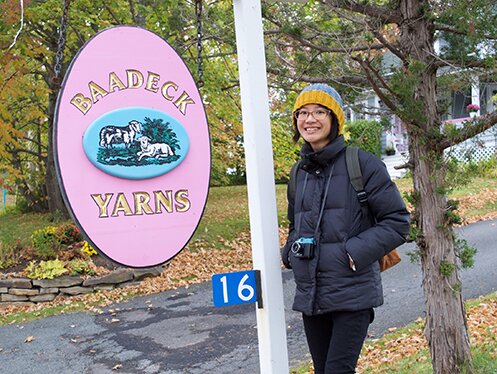 It has soooo much yarn… (sorry about the blurry picture, my hands were obviously shaking with excitement)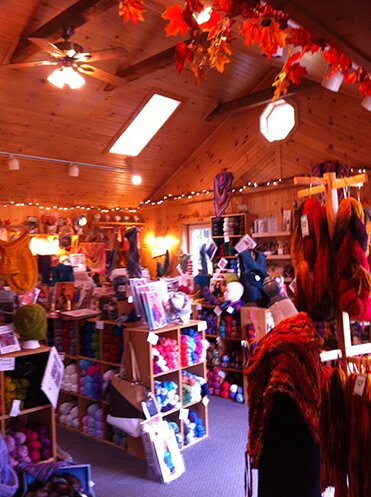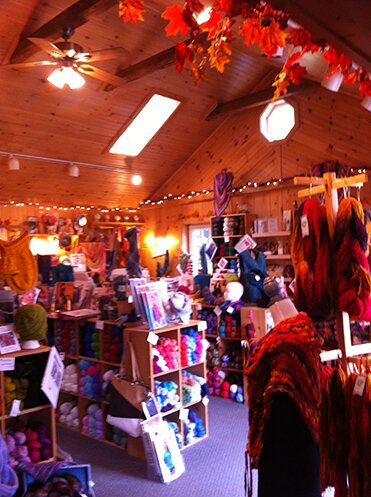 The shopkeeper is so very friendly! She showed me the beautiful crocheted cardigan she just finished, we exchanged experiences with various knitting stitches, then she chatted with Mike while I went around the store to touch everything. This is me being ridiculously happy being in this store.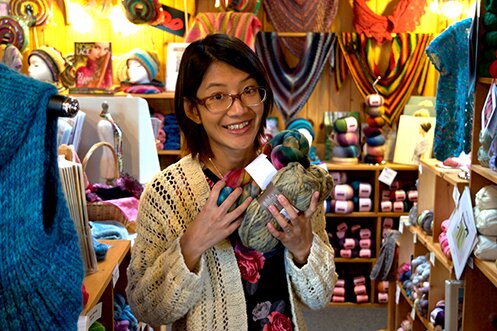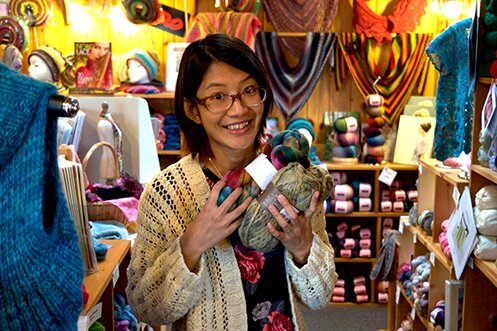 I seriously had a super hard time walking out the door, with the kind shopkeeper and all the yarns… but eventually I did. And hope to return one day. On the plane home I was knitting with a ball of yarn that I bought there.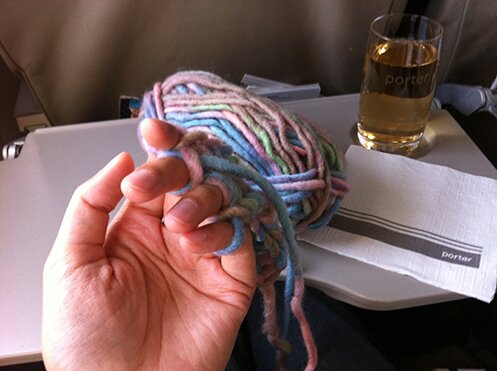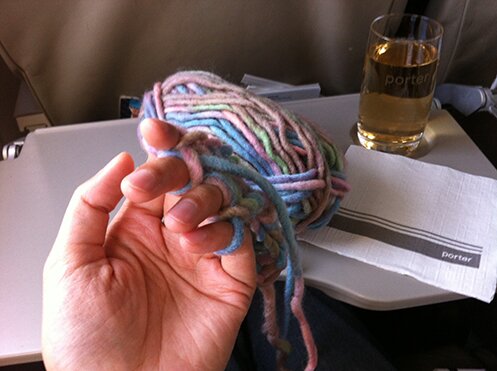 This is all the yarn I gathered from the trip :D (the Sirdar Kiko has already been knitted up)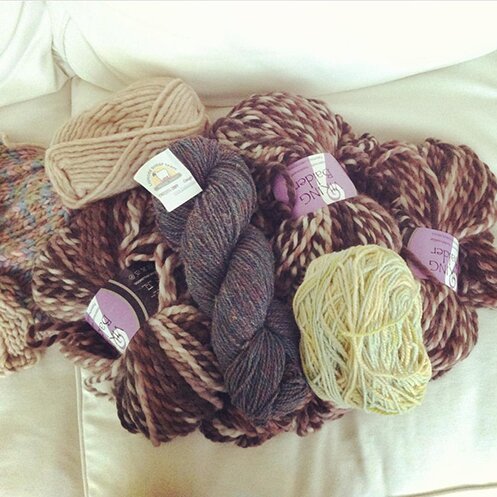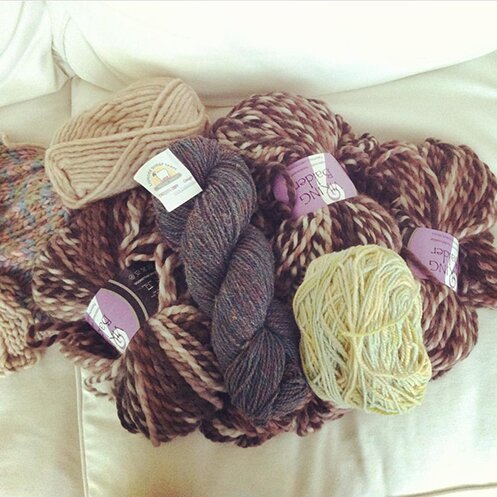 I bought the skein with green/purple/brown shades at the Seaport Farmers' Market from Lismore Sheep Farm, when we drove back from Cape Breton to Halifax to catch our flight. After going to Baadeck Yarns I wasn't going to buy more yarn, because we tried to travel light and only brought one suitcase and a couple of carry-on bags. But it was really affordable and it has beautiful shades of colours I like, so I couldn't resist! I wasn't going to get so much of the brown/tan yarn neither, but the shopkeeper at Baadeck gave me a really good deal because she was cleaning out the shelf… Anyway, good thing yarn can squeeze into small spaces, everything fit in our suitcase in the end :D
Stay tuned for more photos and stories from our trip! :D Hope everyone has a good start to the week!