Was apartment-hunting with a friend in a nearby neighbourhood. It was such a fabulous day. So sunny but not too hot with some nice breeze. Then suddenly we were greeted by this big, pink, furry tree, which my friend called "the smoke tree", which I thought was such a poetic name for a tree…
I've never seen such a tree before. The pink "fur" was so light and soft I just wanted to stick my face in it. (Actually, I did stick my face in it, for a second.)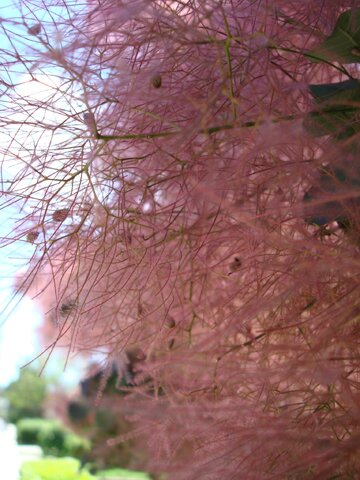 Then I saw another tree, which looked like a pine tree, but it didn't have pine needles. I mean it had something that looked like pine needles but they weren't prickly like pine needles, they were soft like leaves. And it had pine cones but they were much smaller than regular pine cones. I could picture them being really cool necklace charms but I forgot to check if there were any fallen ones in the bushes.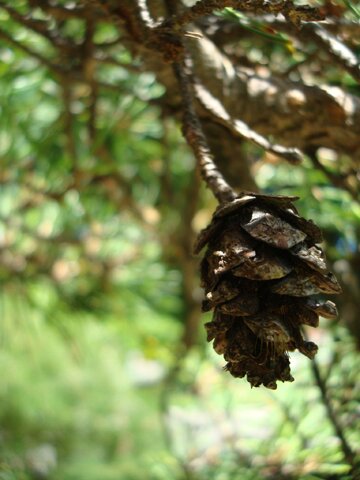 Speaking of necklace charms, I registered for a resin jewelery workshop next week! I've been wanting to learn that since I was in grade 5! We were still living in Hong Kong then, and my school had *mandatory* extracurricular classes (uh, oxymoron?) every other Saturday (yes, we had school on Saturdays). I signed up for Girl Guide and then was picked for the choir, but my friends signed up for craft, and one day they came back with these really neat crystal-like things with seashells and stuff embedded in them — it was so NEAT! And I wanted to learn to make it so BADLY! But once you signed up for something you can't change your mind so I was stuck with the choir (which I didn't pick) and the Girl Guide… SO! 17 years later, no more choir and no more Girl Guide and I can sign up for whatever the heck I want and so next week, I'm going to make resin jewelery! :D
By the way, the workshop (and many other fun and affordable craft workshops!) is held at Wise Daughters Craft Market in the Junction. If you live in Toronto or if you ever visit Toronto and you like crafts and the handmade be sure to check it out! It's a wonderful place to buy artworks and crafty things created by local artists! I like to make half-day trips to that area because it's also down the street from High Park which is breathtakingly beautiful in the summer, and also many sweet little shops and cafes along the way.
Have a wonderful Wednesday!