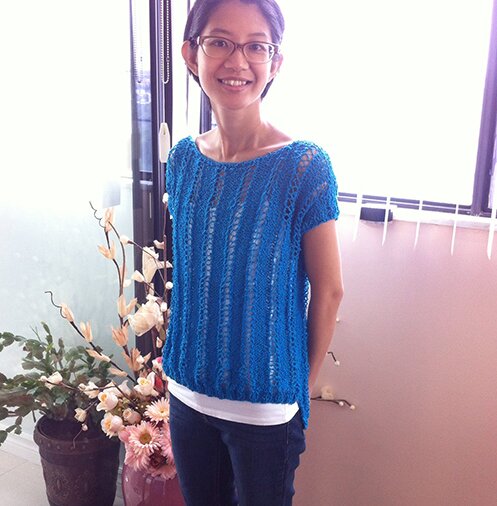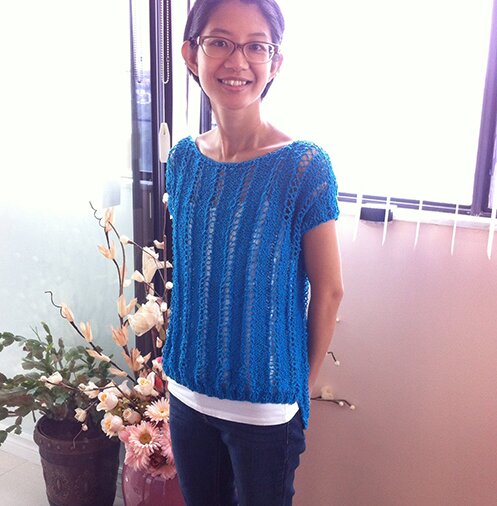 Recently finished this summery top :D The Yamamichi-mon tee on Ravelry.
I used a vintage yarn that I inherited called Bouquet Cindy Cotton Look. I thought the texture of the yarn would work well with the design of the sweater. It's worsted/light worsted weight, and I used 7mm needles.
So to compensate for the much larger needle and heavier yarn, I cast on 76, then when dividing for the shoulders and the neck, I bound off 36 stitches in the centre/neckline, leaving 19 stitches for each shoulder. I knitted only 4 short rows to shape the shoulders on both front and back, and after binding off the stitches in the centre/neckline, I bound off all of the stitches in the shoulders in the next row. The front piece measures 19″ and the back pieces measures 21″. The finished sweater measures 40″ around.
I really like how it turned out :D
We've been having a bit of a cool summer in Toronto so far, but I'm not complaining, because it hasn't been too hot to wear knitted/crocheted summer tops! :D
Hope everyone has a lovely, sunshiny week!