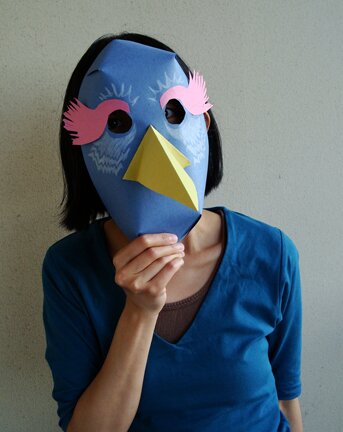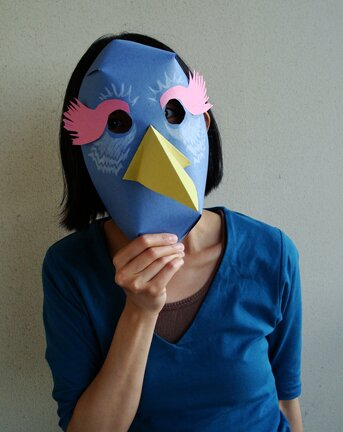 Not exactly like Kevin from Up, but since I was wearing blue when I took the photo it kinds of remind me of him :D
More crafting with kids last week. A rather large group of kids. What's simple and straightforward and costs next to nothing?
The animal masks from RiceBabies reminded me of the mask-making workshop from school. The masks we made were less "sculpted" than the RiceBabies masks, but still three-dimensional. Last time I presented the idea to other kids they were pretty impressed, so I decided to go with it. I even found a pack of 200-sheet construction paper at the dollar store for $2. The cashier wouldn't believe me until she scanned the bar code.
This is the template we used. See? Pretty simple. I suppose one could refine its shape more by having 3 cuts on each side instead of 2. And it doesn't have to be perfect either, since it's going to be decorated and shaped. This is just on a piece of 9"x12" construction paper, and it's large enough for an adult's head, like mine. I just estimated the position for the eyes; I think placing them slightly above the middle and 3 fingers apart generally works well.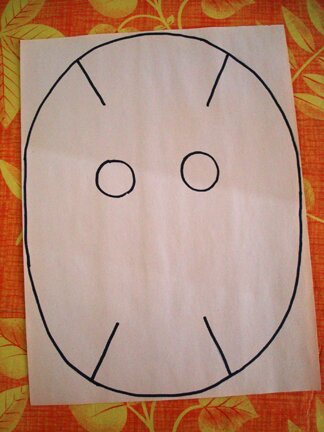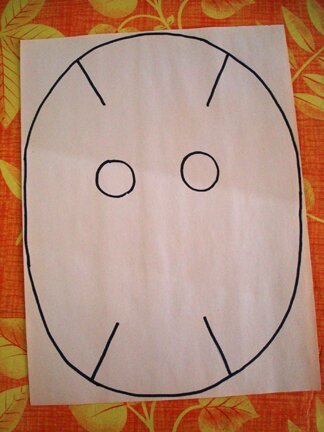 And then it's building and drawing the features of the mask — the sky's the limit! We weren't going to be able to use paint, so I made this test one with construction paper and drew on it with pencil crayons. It worked out fine, though it needed to be decorated first before shaping and stapling the mask together. Definitely better to use card stock.
I think it's a pretty good project for a rainy day, like today. Happy Saturday, everyone!