I won't give up on you, cot­ton shirt, no I won't!
After fail­ing to dye this cot­ton shirt pink with beets last time, I thought of anoth­er dye­ing method I've been dying to try (yes, pun intended).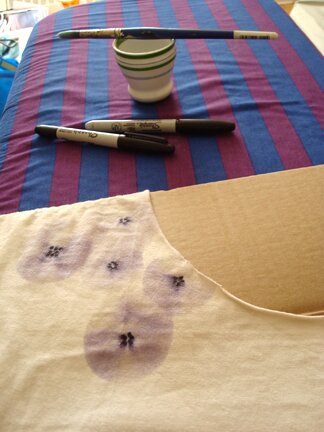 Sharpies! :D
I first saw this Sharpie dye­ing idea here, and then I came across anoth­er one here. I did­n't have coloured Sharpies though, nor do I have an eye­drop­per. But I fig­ure I'll just use my black Sharpies, and a paint­brush would do.
Aside from get­ting a slight headache from the alco­hol fume after­ward, I'm rather hap­py with the result :D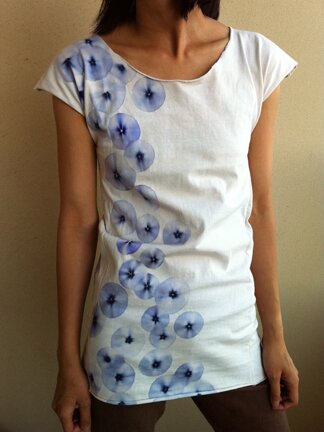 And the back…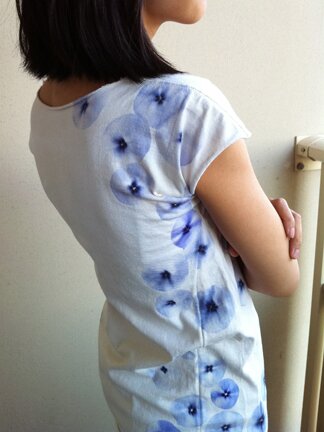 And a close-up of the sharpie circles…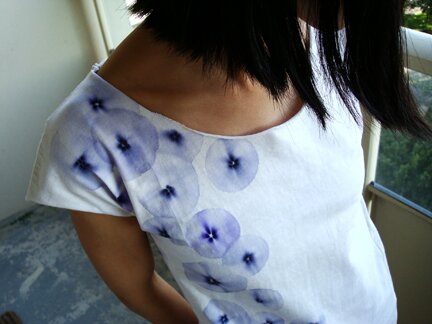 The white tunic was made from an extra large men's t‑shirt. I can't tell you how I made it though, because it's kind of free-formed :S I cut off too much from the sides ini­tial­ly and had to sew on strips of fab­ric to each side after­wards. It's not sym­met­ri­cal at all, but it fits!
To get rid of the Sharpie smell I put it in the wash with dark cloth­ing (and socks. We — OK, I — fig­ure they're old socks so it would­n't mat­ter too much, and it's time Mike gets some new socks any­way), and it did­n't fade! :D Just stained the white areas in a few spots on the same shirt, but it did­n't stain the white socks that we had in the same load of laundry.
Dye­ing with Sharpies is new to me but I lat­er found out that it isn't such a nov­el­ty, there are tons of tuto­ri­als and videos on it! Here's a video on dye­ing a scarf with a wavy-stripe pat­tern. Very water­colour-like, which I like. Might have to try that when I get some coloured Sharpies!
On a relat­ed note, beets did­n't quite work for me but my sis­ter-in-law com­ment­ed that red wine might work, though it would make a ridicu­lous­ly expen­sive dye. But then I thought, isn't wine just fer­ment­ed grape juice? What about grape juice? Appar­ent­ly it works well! I found this tuto­r­i­al for t‑shirts here, and for yarn here. Will have to try that too!
Thank you for vis­it­ing and stay tuned for more exper­i­ments! Hap­py Wednes­day! :D