IÂ have my very own colour-coor­di­nat­ed wall of yarn! So excit­ed XD
This past week­end Mike and I com­plete­ly reor­ga­nized our apart­ment to make room for more work sur­faces. And yes, to con­tain my ever spread­ing "crafty cor­ner". I used to have yarn in bins and bags all over the apart­ment, beside the couch and under the bed and stacked against the wall. But now it's all in one place! :D These shelv­ing units that the yarn is in at the moment were orig­i­nal­ly our book­shelves. We moved all our books onto new book­shelves in our bedroom.
Fil­bert the Choco­cat is in yarn heav­en right now :D
Here's anoth­er view of it from a dif­fer­ent angle… I'm so proud!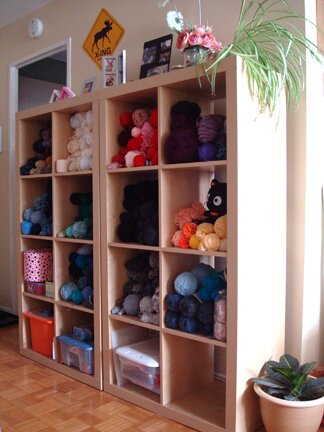 Sad­ly, the yarn is not going to stay this way for very long. It's just not prac­ti­cal to stack yarn on top of one anoth­er like that; I'd have an avalanche of yarn every time I rum­mage through the shelves ("would that be a dream or a night­mare?" Mike mus­es). So I'm going to find the cheap­est bins pos­si­ble to fit into those shelves to hold the yarn. But for now it's pret­ty to look at!
I par­tic­u­lar­ly enjoy all the dif­fer­ent shades of white/beige yarn together.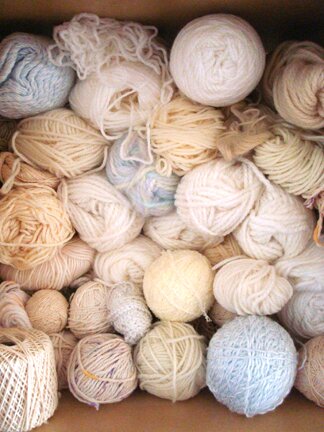 In the process I also learned that I have a huge amount of blue yarn. (near­ly three full shelves!)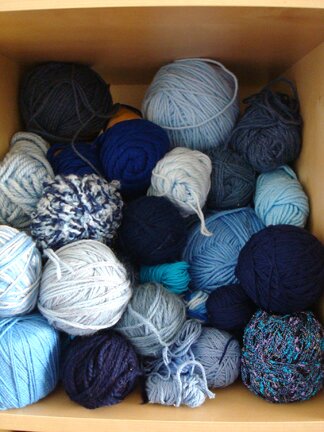 Quite a bit of grey and black…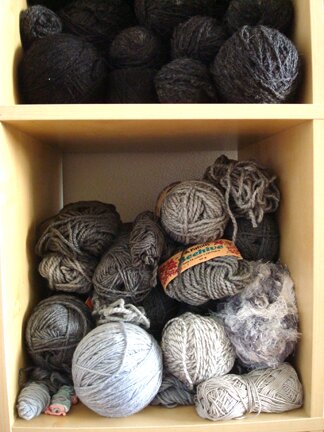 A healthy amount of green and red/pink…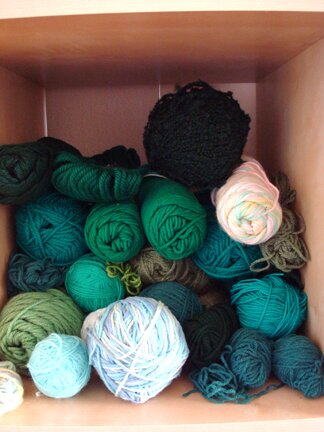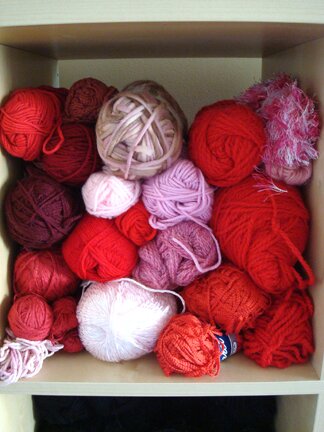 And a bit low on yel­low, peach, and purple.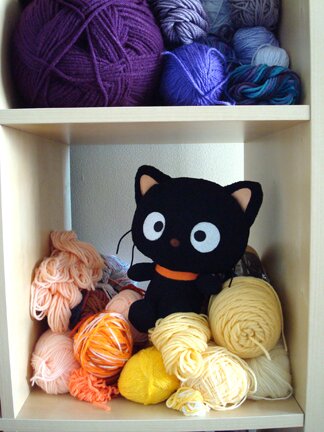 I've also put my spi­der plant, wed­ding bou­quet, ter­rar­i­um and jar of seashells on top of the wall of yarn :D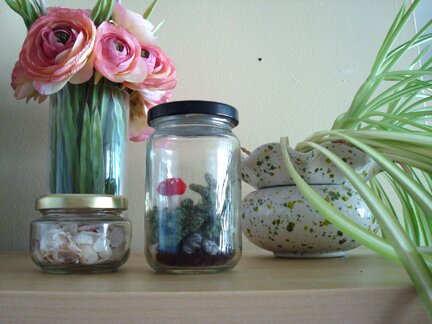 My oth­er ter­rar­i­um sits on one of the book­shelves in the wall of books in the bed­room. It makes me happy :)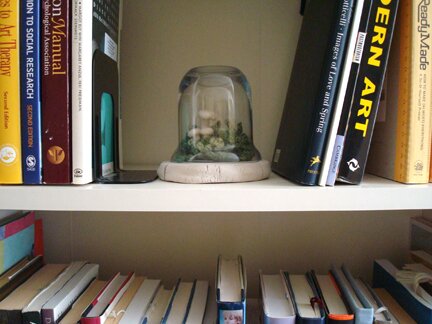 And we also made room for a small stu­dio space — no more sewing and paint­ing on the din­ner table! :DÂ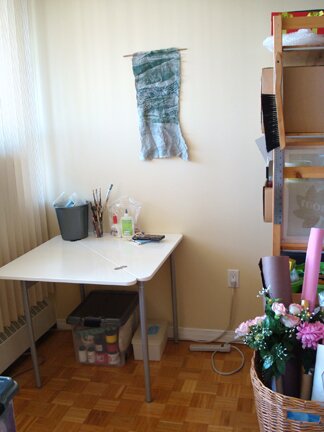 The space where I kept all the art sup­plies before was a bit of a dis­as­ter. I had pile and pile of things at the foot of the util­i­ty shelf, and things on the shelves are always falling over. So over the week­end I've got­ten rid of a lot of things and put things that I don't use on a reg­u­lar basis in bins and box­es. I used to think that art sup­plies need to be out in the open as much as pos­si­ble so every­thing is eas­i­ly acces­si­ble. But now I've learned that it's eas­i­er to dust a box than it is to dust between sheets of hand­made paper and bot­tles of paint. If I real­ly need­ed the hand­made paper or the paint it's not hard to open a box to get it.
Mike also got a new six feet long desk, which he is rather hap­py about. Now he has enough room to draw at his desk, rather than hav­ing to hunch over the cof­fee table.
It's real­ly fun­ny how it works. The apart­ment did­n't get any big­ger but we got more space just mov­ing stuff around. I guess over the past few years of liv­ing in it we learned how we can use this space more effec­tive­ly to suit the work that we do.
We did a lot of work this week­end; the only fur­ni­ture we did­n't move was the bed. And still a lot of fin­ish­ing and vac­u­um­ing to do, but every­thing is pret­ty much orga­nized and I'm feel­ing more moti­vat­ed than before. Not real­ly about any­thing in par­tic­u­lar, just gen­er­al­ly more moti­vat­ed and ener­gized. It's fun­ny what our sur­round­ings can do to our moods.
Hope you have a great start to the week! :D