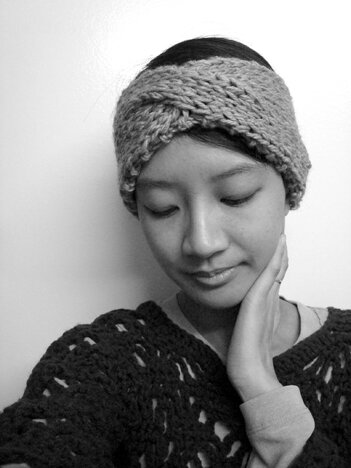 Looking for a very last minute gift? This headband took me just one hour to make, and I don't even knit very much. Perfect for this snowy weather we have going on these days! It'd probably look better on someone with longer hair, but it's really quite cozy.
It is based on this simple headband pattern from The Knit Cafe. I think the original looks very cute but the garter stitch kind of obscures the twist design a bit, so I thought I'd substitute with stockinette stitch. Spontaneously decided to write a post about my modifications and didn't wait for daylight to take photos, so I thought I'd try to be stylish and make it black and white :P The yarn I used is grey anyway :)
Here's what I did:
I used 10 mm straight needles, 1 strand shetland chunky and 1 strand worsted weight yarn held together, a cable needle, and tapestry needle.
Cast on 12 stitches.
Row 1: knit
Row 2: knit first stitch, purl until last stitch, knit last stitch
Repeat rows 1 and 2 until piece is 8.5 or 9 inches long, end with row 2.
Cable row: knit first stitch, place next 5 stitches on cable needle, knit the following 5 stitches, knit the five stitches on the cable needle, knit last stitch.
Repeat row 2, then row 1 and 2 until entire piece is 17 or 18 inches long, bind off.
Sew the ends together. The post on The Knit Cafe has a nice photo tutorial for seamless join (scroll down for the seaming tutorial).
Happy crafting! :D