5th pattern in the 12 Days of Woodland Creatures (& Their Favourite Things) project!
So, we're going to a mushroom identification workshop at High Park tomorrow, and Mike thought it would be a really great idea to make a mushroom pin on his own for the occasion. And so I thought it would be the perfect opportunity to make up the mushroom pattern while teaching him how to crochet :D
Apparently, hedgehogs really like mushrooms. So do Hobbits — "It is said that Hobbits have a passion for mushrooms, surpassing even the greediest likings of Big People" (source). Anyway, I digress.
Here's Mike working hard to master the ch, sc, hdc…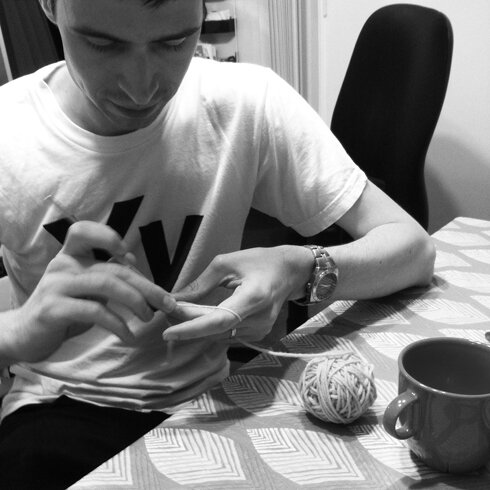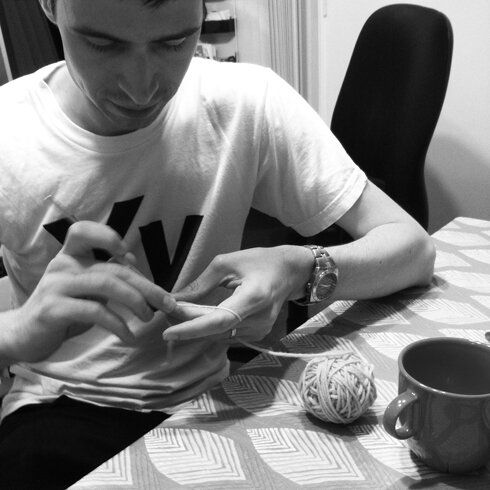 And here's what he made :D I love the whimsical different sizes spots on it.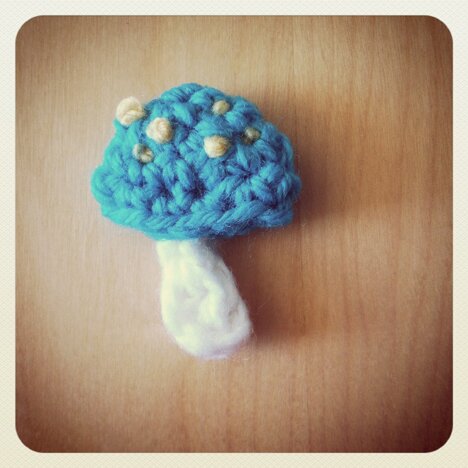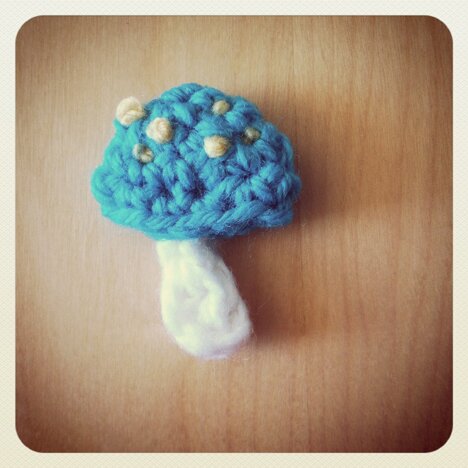 And here it is with the other two I made.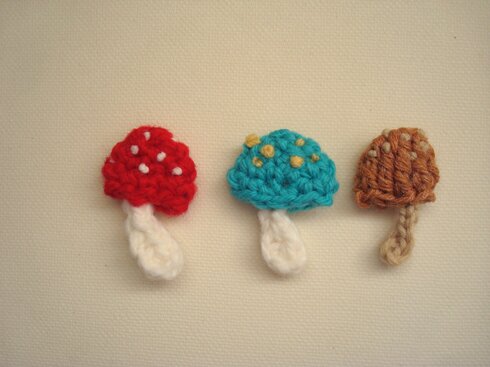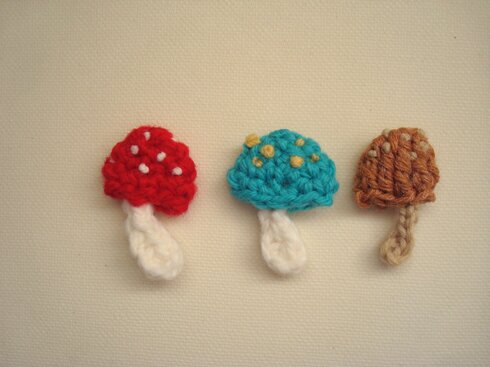 These mushrooms are flat, great for applique, brooches and ornaments.
There are probably dozens of mushroom applique patterns written already. But I thought what I can offer is two super quick, super easy ways of making mushrooms — a rounder, more plump one (red and blue) and a narrower one with vertical texture (brown).
Materials:
We used chunky weight yarn for the red and blue mushrooms, with a 5 mm hook, because Mike wanted to use a specific colour of yarn and I only have it in chunky weight. But worsted weight yarn and a 3.5 mm hook will also work well.
Also, tapestry needle for sewing and embroidering.
Patterns:
Round mushroom cap
ch 2, 6 sc in 2nd st from hook, do not join.
*2 sc in next sc, sc in next sc*, repeat from * to * two more times, do not join (9 sc in round).
Continue in rounds working 1 sc in each sc until mushroom cap is about 1″ tall. Fasten off, leave tail for sewing.
Stem
ch 6, hdc in 2nd ch from hook, sc in next ch, sl st in each of remaining ch. Fasten off.
Assembly
Embroider spots on mushroom cap with french knots.
Place the narrow end of the stem into mushroom cap. Using yarn tail from mushroom cap, sew the opening of the mushroom cap together along its width, sewing through the stem when you come upon it.
Narrow mushroom cap
Make a magic ring, ch 4, 8 dtr (double triple stitch) in magic ring, sl st in the top of beginning ch 4. Fasten off, leave tail for sewing.
*the dtr may take some practice to master as it has a tendency to become loose between stitches, but once you've done all eight of them then that's it! You've finished the mushroom cap!
Stem
ch 8, hdc in 2nd ch from hook, sc in next ch, sl st in each of remaining ch, fasten off.
Assembly
Same as round mushroom.
There will be big gaps between the long dtr stitches, but embroidering on the spots and sewing the opening of the mushroom cap closed will help keep it in shape.
Hope you enjoy the mushroom patterns!
Also want to give you a heads up that the next couple of patterns for the 12 Days of Woodland Creatures project may get delayed a bit. Things are becoming busier than I have anticipated. I'm making stuff for a craft sale next weekend, and then several school/work related meetings and deadlines also suddenly got scheduled for this coming week… here's a look at my couch, in the midst of pre-sale rush, with Filbert the cat looking on, full of concerns…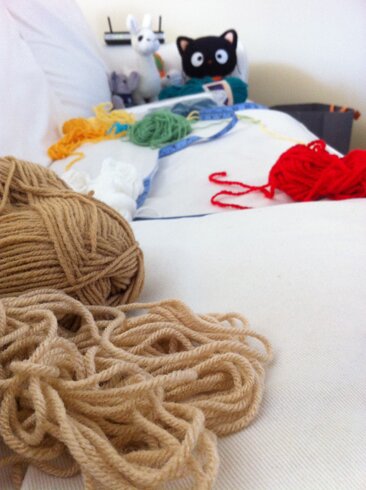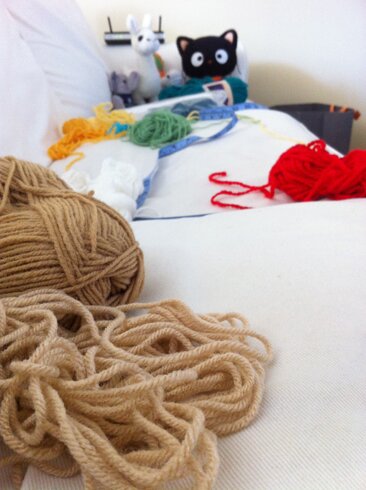 But it's exciting! The coming week is full of exciting opportunities. It just took me by surprise, that is all.
I had planned on posting a pattern every 2–3 days, and I will still try to do that, but if the next one comes out a day or so later, please bear with me >_<
Have a wonderful weekend, everyone!!