Need­ed to make myself a new wal­let, I thought I'd make some­thing fun :D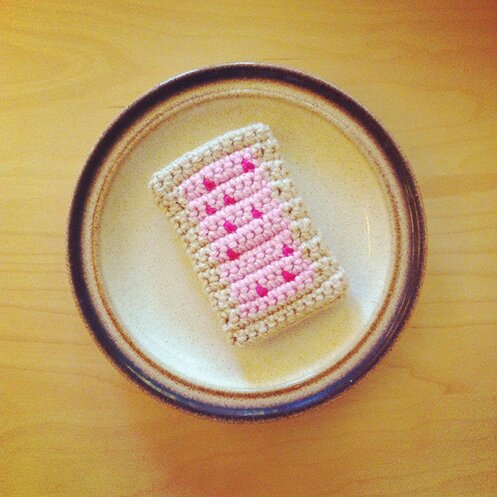 The Nyan Cat pop-tart! :D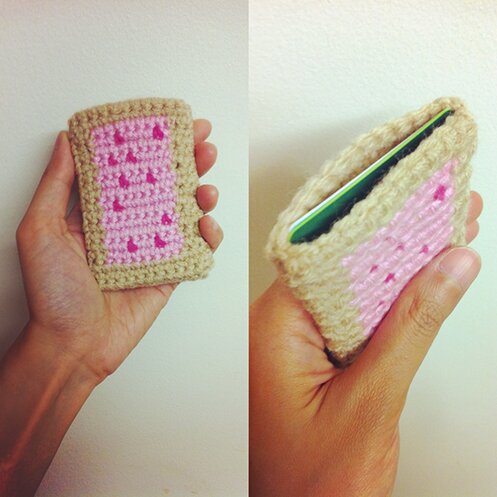 That's not real­ly a wal­let, one might say. More like a card­hold­er, one might also say. I guess one could use it as a card hold­er. I made myself a tiny wal­let this size when I start­ed work­ing at a cof­fee shop near­ly a decade ago. There were no lock­ers in the back­room, so I made a wal­let that would fit in my jeans pock­et, so that it's always on my per­son as I worked. I've been using the small wal­let ever since. My bank cards and IDs fit snug­ly in it. And the few bills I have I'd just fold them up to fit them in.
In case any­one finds a cro­cheted case of this size use­ful, I've made a chart! :D And a few notes describ­ing how I made it.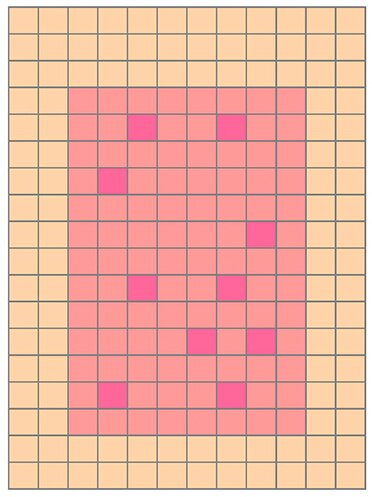 The fin­ished size is about 2.5″ x 3.5″.
I used worsted weight yarn in tan, pink and dark pink, a 3mm hook, and a tapes­try needle.
With tan, ch 13
sc in every ch across (12 sc)
Repeat row 2
Begin fol­low­ing the chart adding the pink and dark pink, using strand­ed cro­chet technique*
At the end of the chart, you'd have 18 rows alto­geth­er. Don't fas­ten off, cro­chet 18 more rows with tan. Fas­ten off, leav­ing a long tail for sewing.
With wrong side out, fold the piece in half cross­wise, sew the sides togeth­er. Weave in ends, turn right side out.
*Tips on strand­ed cro­chet for this project:
The first row incor­po­rat­ing pink (3rd row of chart) is wrong side, as are all the rows with just pink.
All the rows incor­po­rat­ing both pink and dark pink are right side.
Chang­ing colours: in the stitch before new colour, yo and draw up a loop with old colour, yo with new colour and pull through loops on hook.
Car­ry the strands of colours not in use as you cro­chet and wrap the strands in the stitch­es you make. When work­ing on the right side, car­ry the strands of yarn on the back of the work. When work­ing on the wrong side, car­ry the strands of yarn in the front of the work.
Do let me know if you have any questions! :)
Have a good rest of the week and week­end, everyone!