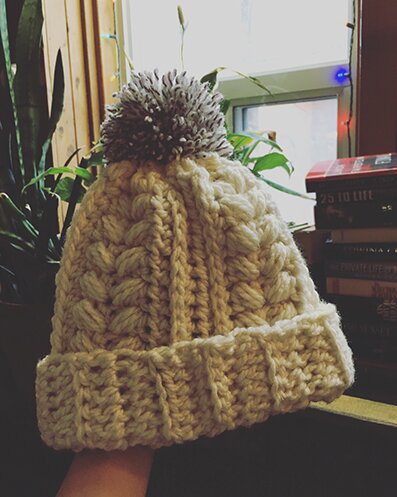 This hat was made and the pattern written while Mike and I participated at the Warming Toronto event at the end of February, which was an event in which people gather together and make hats and scarves for shelters and outreach programs in the city. So I'm sharing this pattern with these intentions:
1) The hat is quick to make. I had to restart several times while I was figuring out a pattern, and I was also eating a very delicious plate of fish and chips (AWAY from the yarn — this setup was only for Instagram!), but I made the hat from start to finish within 4 hours, so making it from the pattern should take much less time!
2) Since it's such a quick make, I'm hoping that this will encourage you to make one for yourself and make another to pass it on to someone who can really use a thick and warm hat!
Behold the cozy yarn pile — by the time I finished the hat we've collected 114 finished items! :D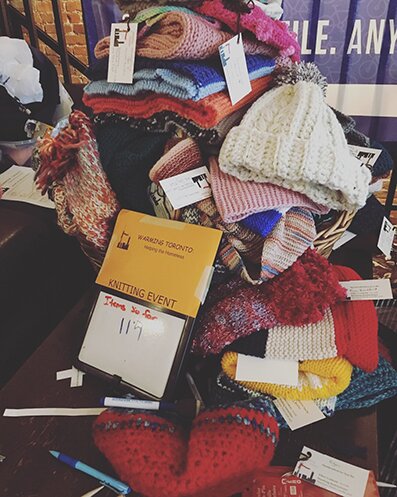 The event took place at a pub, which has an upstairs library with couches and fireplace, perfect for yarn-crafting and provided backgrounds for my photo shoot that are much more interesting than what I usually have :D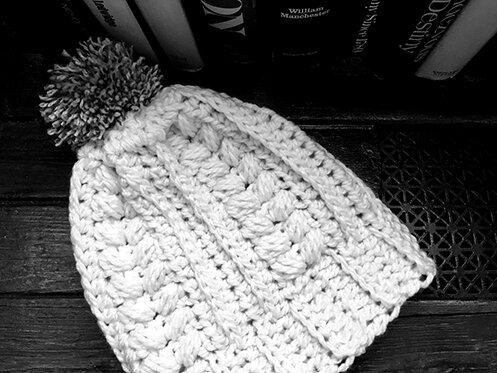 The hat is worked sideways then seamed together. It has rows of braided puff stitch and texture created by crocheting into the 3rd loop on the back of a half-double crochet stitch. If you haven't tried neither of those stitches, don't worry, I took plenty of process photos to show how it's done :)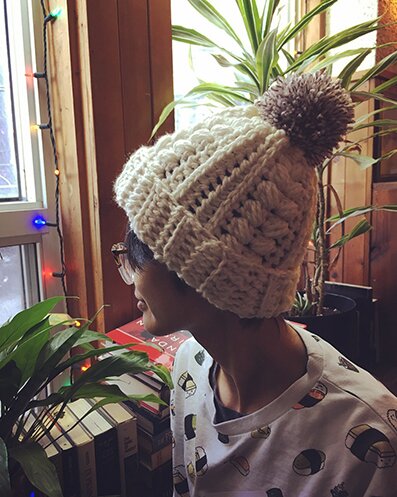 The hat measures about 9″ tall (brim folded) and 20″ around.
Material:
Two skeins of Bernat Softee Chunky, or other super bulky weight yarn (the hat uses about 150 yards, so 3 skeins would make 2 hats! :D)
Contrasting colour yarn for pom pom.
9 mm hook, and a smaller hook for weaving in ends.
Yarn needle.
Pattern:
*Note: beginning ch does not count as a stitch throughout the pattern.
Row 1 (RS): ch 26, hdc in 3rd ch from hook, hdc in each ch to end. (24 hdc's)
Row 2 (WS): ch 1, hdc in back loop only (BLO) in the first 6 hdc's, then hdc in the 3rd loop in each of the remainder of the hdc's, like so…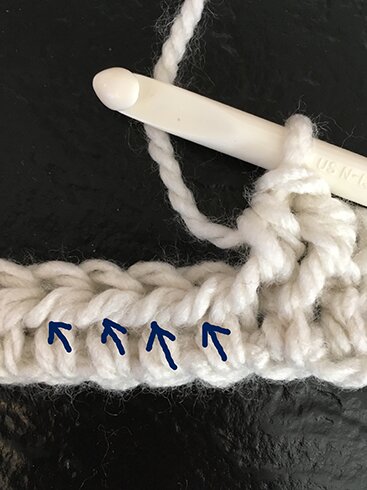 You would insert the hook into the strands of yarn in the direction of the arrows. This creates a nice raised braid on the right side :)
Row 3: (puff braid row) ch 3, skip first 2 hdc, dc in next hdc…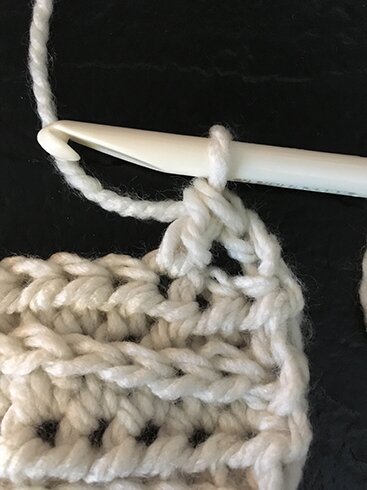 [yo and pull up a loop] three times in the first hdc of the row, then pull through all loops on hook (puff stitch made)…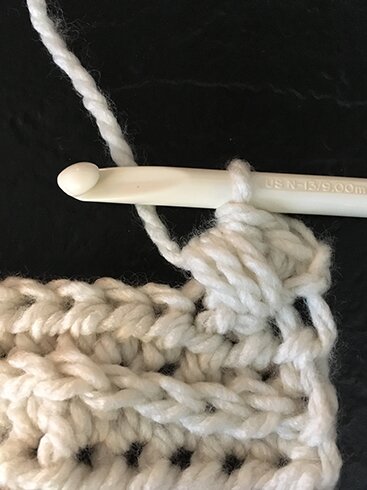 *skip next hdc, dc in next hdc, puff st in the same hdc as last dc made* rep from * to * till there are 7 hdc's left in row, dc BLO in each hdc to end.
Row 4: (puff stitch row) ch 1, dc BLO in next 7 dc, sk next st, dc in next dc (between 2 puff st's)…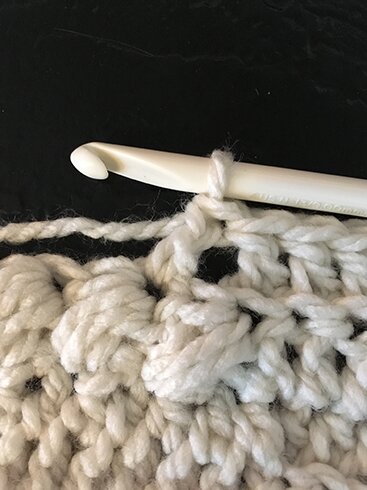 puff st in the st before the skipped st…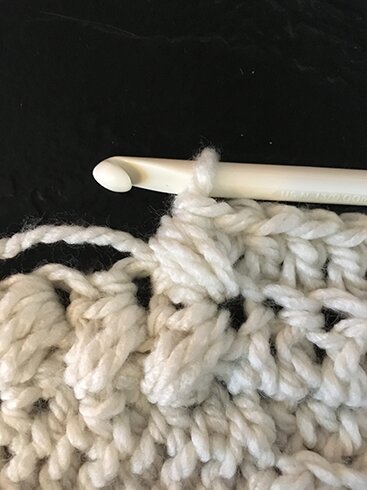 *skip next st, dc in next st, puff st in st before skipped st* rep from * to * till end of row. When arriving at the end of row, work last dc in the very last st…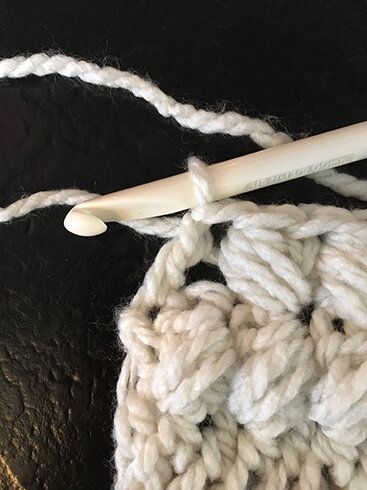 Then end with a puff st.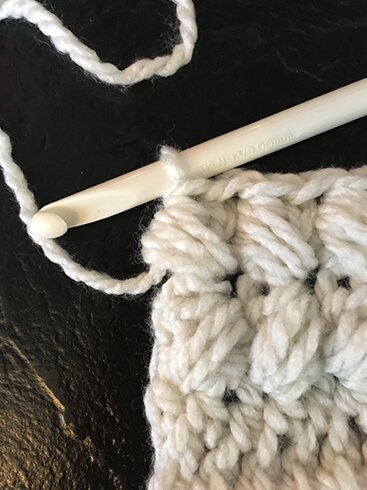 Row 5: ch 1, make sure the first hdc is made in the very first st…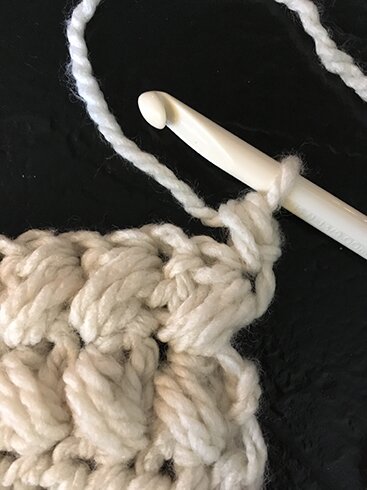 Then hdc in next 17 st's, hdc BLO in last 6 st's.
Row 6: ch 1, hdc BLO in first 6 hdc's, hdc in the 3rd loop in the remaining 18 hdc's.
Row 7: ch 1, hdc in first 18 hdc's, hdc BLO in remaining 6 hdc's.
Repeat rows 2–7 three more times, except in the last repeat, omit row 7 and end with row 6.
Decrease row at top: ch 1, 2 dc tog evenly across the top of the hat.
Cut yarn and leave a long tail for sewing. Thread yarn tail in yarn needle, weave yarn tail through the stitches at the top of hat, cinch close and tie to secure. Turn hat inside out, sew seam. Make and attach pom pom. Fold up the brim for extra warmth!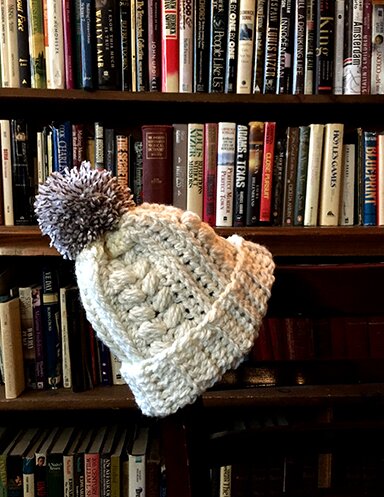 I hope you enjoy making the hat! Leave a comment if you have any questions or need clarifications. And if you're looking for places to send your yarn-craft items…
Here's a list by the Toronto Knitters Guild of places that accept yarn-crafted goodness in Toronto.
Warm Hands Network collects and sends handmade items nationally and internationally, especially to northern locations.
For friends in the USA, the lists on Mental Floss and Red Heart may be good places to start :)
With glowing heart and busy hands — happy yarn-crafting!