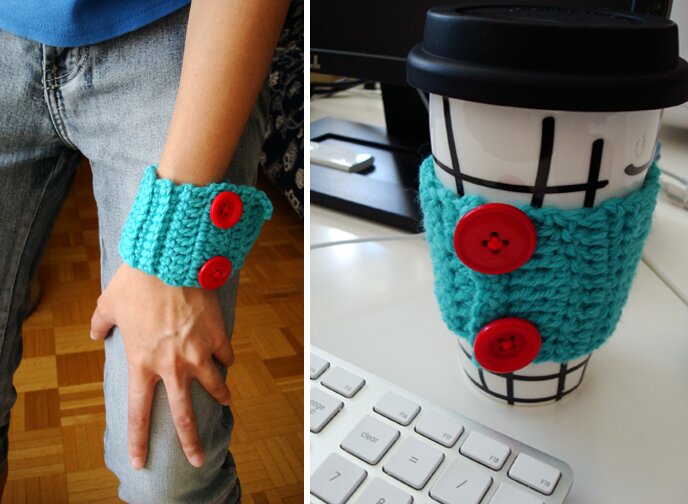 Excit­ing news! I have an oppor­tu­ni­ty to demon­strate how to cro­chet this wrist-cuff-turns-cup-sleeve this com­ing Wednes­day, August 18, at 6–7:30pm at the Walmer Cen­tre. Come join us if you want to learn basic cro­chet stitch­es while mak­ing some­thing use­ful! Yarn and but­tons will be pro­vid­ed, and drop me a note if you need a hook! After my cro­chet demo there will also be a knit­ting work­shop, from 7:30–9pm! Come to both and you'll be all set for many of the fab­u­lous cro­chet­ing and knit­ting pat­terns out there!
Speak­ing of fab­u­lous pat­terns, I came across this tru­ly amaz­ing (and free!) pothold­er pat­tern a while ago, and I thought to myself that if I ever need to make a house­warm­ing gift I will def­i­nite­ly make this. And here it is! An origa­mi pothold­er for a new home :D
It's actu­al­ly quite straight­for­ward and easy to make, but very impres­sive look­ing when it's done. It's quite mag­i­cal how it all turns out. You'll have to make it to expe­ri­ence the mag­ic :P I think it will also make a nice coast­er (with thin­ner yarn and small­er hook) or Christ­mas orna­ment (with very thin yarn and very small hook)!
So, any­way, have a fab­u­lous week­end! And feel free to come join us on Wednes­day for a needle­craft gathering!