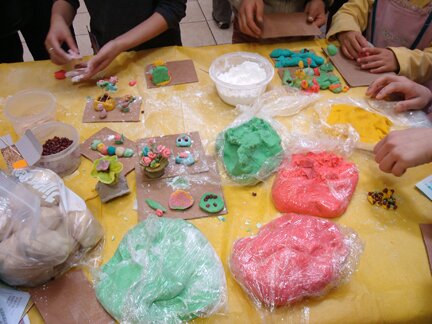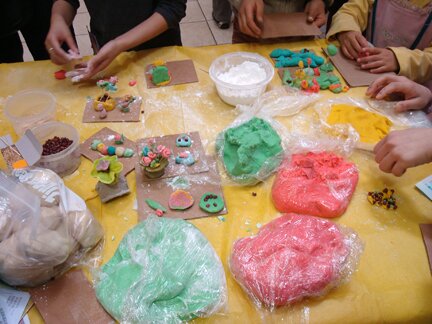 Busy hands at my mom's "dough fun" booth for the kids! It was part of her Christian community outreach group's Easter program at a Chinese mall, along with other game booths, the telling of the Easter story, free blood pressure measuring (a big hit with the seniors), dance and choir performances, and Chinese opera singing.
The night before we made 8 batches of dough in total, each the size of a small cantaloupe. My mom cooked some batches using this recipe, while Mike and I made some using the uncooked recipe.
And from this frenzy of dough-making I learned that:
1. Never wrap cooked dough in plastic wrap! Just put them in an air tight container, and only do that after it's cooled. Of course, I found that out the hard way. 4 batches of cooked dough turned into paste the next day. Utterly formless, sticky, mushy paste. It took 2 full bags of rice flour (because the Chinese grocery store near the mall didn't sell all purpose flour) and 2 hours of kneading one fistful of dough at a time to undo the damage.
2. Always add less water than called for initially. Especially with recipes that also call for oil and food colouring. I found that any extra liquid would make the dough too wet and sticky. One could always add more water if the dough seems dry and flaky.
Though not without stress, the day was fun! I made some samples before the kids arrived. Like this caterpillar here, with red bean eyes. (As a last-minute solution for "what if the kids make animals and they want to add some eyes?" my mom brought in some red beans from her pantry.)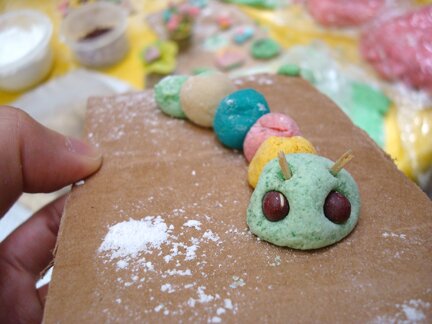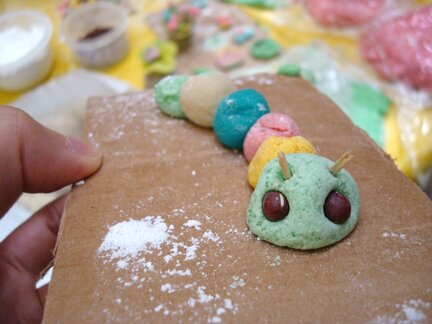 With those huge eyes it kind of reminds me of the giant caterpillar in Miyazaki's Valley of the Wind.
The volunteers and the mothers of the kids who stopped by also made some really nice roses!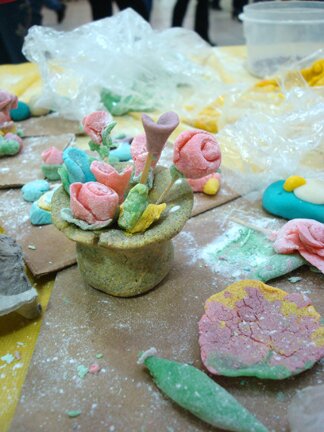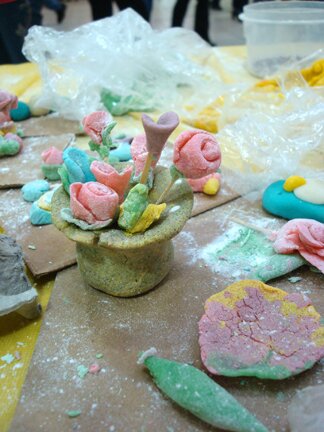 Dough flower is actually a kind of traditional Chinese handicraft, using wheat flour or rice flour and sugar, and are served as desserts. And then there's a modern craft technique for making flowers and miniatures using a special kind of synthetic clay. It's called clay flower in English but its direct translation from Chinese is "flour flower" (punny!), which makes me think that the synthetic clay craft is a direct decedent of the traditional dough flower craft. It appears to be quite popular in Chinese community, with lots of classes being offered at community/cultural centres, and the volunteers and mothers were chatting about the "flour flower" technique while making roses at the booth.
And so lots of kids wanted to make flowers. One of the girls was making a bouquet with different flowers, and requested calla lilies, so I tried to make some. Just a toothpick wrapped in a bit of yellow dough at the top, and then wrapped in a thin, circular piece of dough. Of course, our salt dough flowers seemed pretty crude compared to the traditional dough flowers and the modern "flour flower", but it was fun nonetheless :D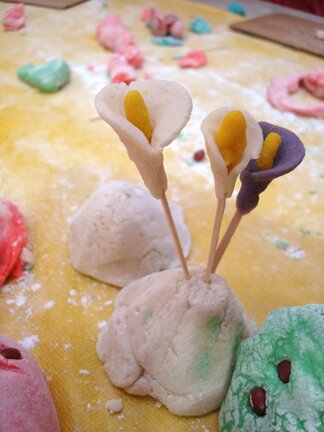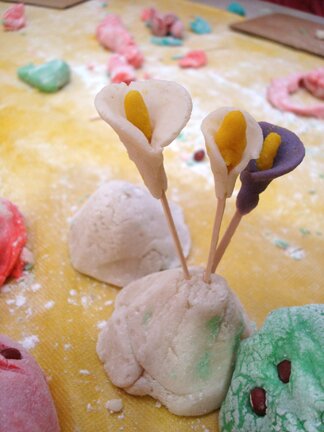 I also made a bird. Only as a sample in the beginning, but I liked it a lot, so I finished it with a coat of varnish and hot-glued a pin on the back.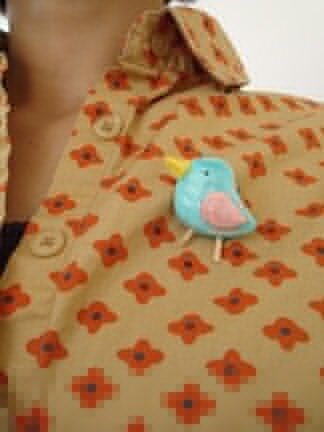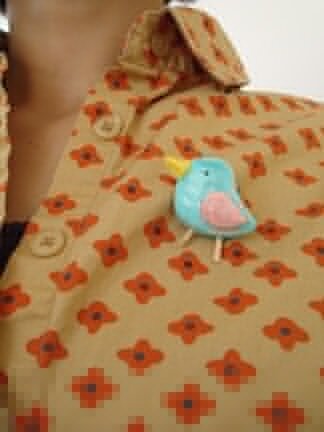 I love its toothpick legs! :D It's found a home in the type case when it's not pinned to my shirt.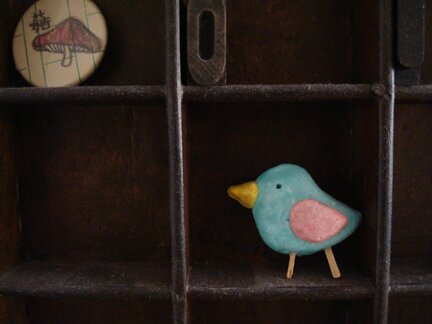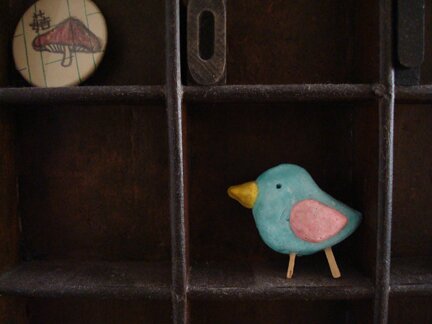 Have a fantastic start to the week, everyone!