The weather is getting a bit too warm for my thick, crocheted-with-two-strands-of-yarn-held-together hat. Even my crocheted slouch hat feels like a bit of an overkill. Perhaps it's best to leave crocheted headgear for the winter. So I just stopped wearing hats whenever I go out.
But one grey, sunless day, after standing in a windy playground for half an hour, and realizing that there are still 20 more minutes to go before the end of my recess duty, I wished I were one of the kids runny around and around the sandbox. Yes, I may look silly, but at least I'd be warm. Or, better yet, I wish I had a hat. Then I'd look warm and stylish. Plus, they say we lose heat through the top of our heads (but apparently that's a myth).
Losing heat or not, a lighter hat is needed for the rainy, grey, spring season (OK, I'll be honest. I just like hats). Then one day, we were at a tea shop and I saw a guy working behind the counter wearing a green hat, like a regular toque, with just a bit of slouch to make it look stylish. I loved the simplicity of it. That was the perfect hat.
And if I see something I like, I've got to make it.
There was a problem, however: I don't know how to knit in rounds with double-pointed needles. Plus, I only have one pair of needles for each size, which means that I don't have enough needles to knit in rounds.
No problem, I will knit the pattern flat, then seam it together. It's not going to look as good but I'm OK with a bit of flaw.
So I first tried this pattern from Sarah Bear Crafts via Ravelry. It looks like it has the tiny bit of slouch that I wanted and seemed simple enough.
I'm not very familiar with knitting, and so it wasn't until row 4 or 5 that I realized when one knits in rounds, there are no purl rows. But I was knitting back and front, so I tried to figure out what to do on the purl rows with the ribbing pattern. And I wasn't good enough in knitting to figure that out, so after casting on and ripping out 3 or 4 times I had to abandon the project and miss out on a great hat :(
So then I found the Rikke hat pattern on Happy Knits, also via Ravelry. Entire hat is made of garter stitch. I can handle garter stitch. It doesn't look very slouchy in the picture, so I was really surprised when I tried it on…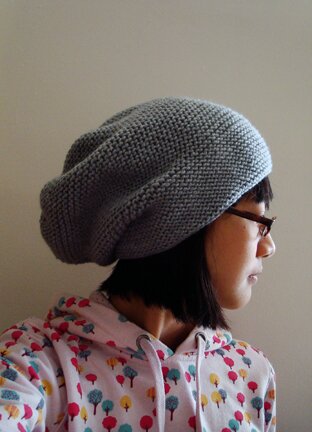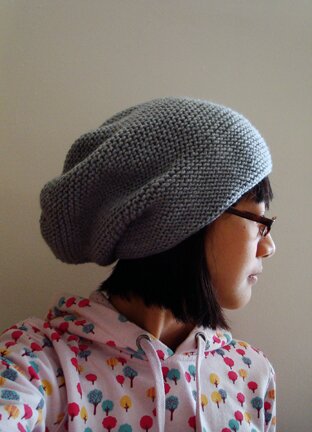 If I had knitted it in white, I would look like a Smurf. And that wouldn't be half bad, wouldn't it? But I just can't see myself wearing that to work. I don't think it was the pattern's fault. Perhaps I have a smaller than average head. Perhaps it was the yarn substitution and my faulty calculation. Even though I decreased the number of stitches all around it was still too big.
So! I took it apart and tried again with a lighter yarn. I also made it 2.5 inches shorter than the pattern. And it worked out just the way I wanted :D (Isn't it a great feeling when that happens with knitting? I guess it's such a big deal for me because I'm not very good at checking gauge. And unlike crocheting, one can't take the stitches off the needle and try it on along the way.)
Here it is from the side…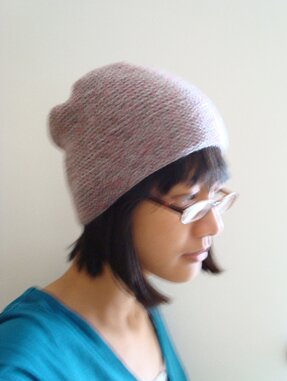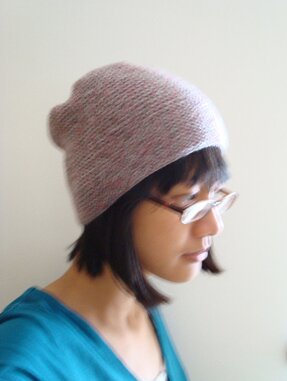 And here it is from the front :D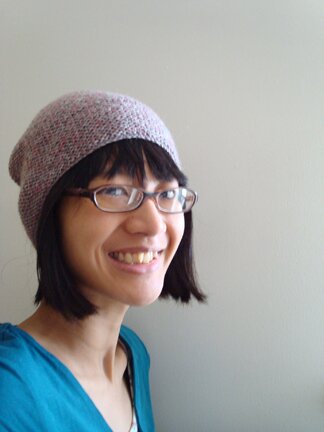 Yes, I'm just that happy about a new hat :P
(The truth is that I've taken way too many pictures of myself, trying to frame it properly while keeping a straight face, and in the one before this for some reason I looked shocked and scared and mad altogether. I looked so ridiculous it was hilarious. So this is more about me laughing at myself. Makes a pretty candid shot though!)
And let me show you a close up of this yarn, with the different colours in it. I believe it's DK or sport weight. It was given to me without a label.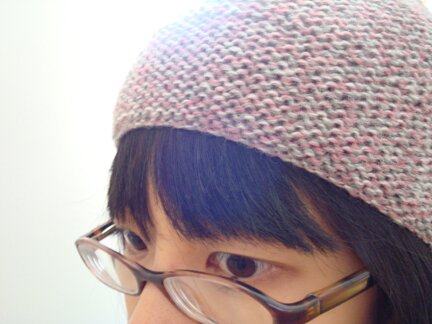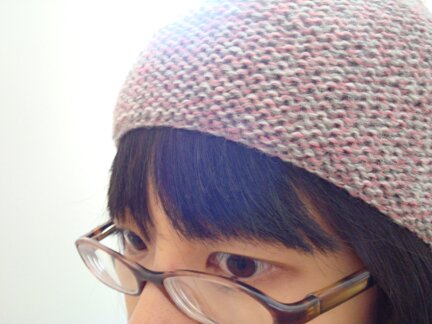 I wore it out today. It's very light and doesn't give me hat hair. It's perfect for spring :D
Cheers!