Here are my fabulous finds this week — I hope you enjoy them too!
Got a stray sock? Or a sock with holes in the heel? Make some baby socks! Now I just have to find a baby to wear them… Simply genius idea from Made by Joel.
It is absolutely worth the money to buy this pattern, if you and your family like to wear flip flops — it comes in size 3–10, good for both indoors and outdoors! Makes fantastic gifts for birthdays in the summer, I think! Pattern for sale at EASY.
More crepe paper awesomeness! The tutorial calls for crepe paper in sheets, but I wonder if streamers would work. Hmm. Crepe paper flower tutorial from How About Orange.
I love this idea from Make and Takes to encourage optimism in the family. One person writes in a journal 3 things that made him/her happy that day, then put the journal on someone else's bed to write the next day. I suppose one could also write about things that one is thankful for, to treat the grass-is-always-greener-on-the-other-side syndrome. Or write about things that give us hope, in times of change and challenge. It's fun to do when there are several of people (especially kids) in the household. But I can also see it being a great journaling practice. Don't have a journal handy? Make one with scrap paper! :D
But when it's hard to express in words, try saying it in llama. Because llama makes everything better. Just watch. Not convinced? Read these examples. Now go ahead, say it in llama, save, and share. (via Swissmiss)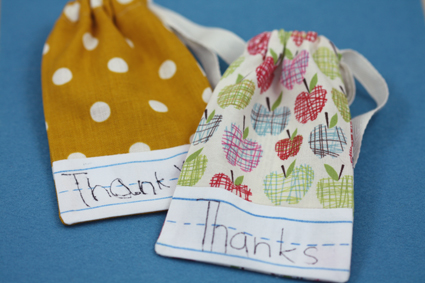 On the other hand, if you have something really nice to say to someone, this cute dictation pouch would do a fabulous good job. Tutorial by The Long Thread.
Perfect for weekend brunch! Bunny fold for napkins, instruction on the Martha Stewart website.
Also made with a rectangular piece of fabric — a simple, breezy summer blouse. Free pattern on Grosgrain.
This is just brilliant! A theatre made of a matchbox, and characters made of rocks! Not only that, but the rocks are moved by magnets on a popsicle stick, and the scenes are replaceable (even has a piece of ribbon at the bottom for easy removal). Such an awesome idea, generously shared on Coloured Buttons.
I have been wanting some air plants for a while… I think they're just fascinating. And I think these terrariums are just the perfect way to display an air plant. How-to on Ruffled.
What's better than an extra whip green tea latte? (or any hot drink of your choice — GTL is just my favourite) An extra whip green tea latte with a colourful knitted cup sleeve! These are by far the most elaborate coffee sleeves I've seen. Pattern by Ohdessa Knits.
Coconut ice! These look so delicious, and are surprisingly simple to make! Though the original recipe calls for dessicated coconut, I'm guessing regular shredded coconut would do (I will test it out and report back — stay tuned!). (via Mini-Eco)
I'm not a fan of olive, but these would be a hit at any party for sure! How-to on The Hairpin.
Happy crafting! :D