Shrink plastic is so much fun. I had long been thinking about making some stuff with it for my shop. Finally got around to it :D
I like drawing circles connected to one another. This particular shape reminds me of the abalone shells my grandparents gave me when I visited them in Hong Kong.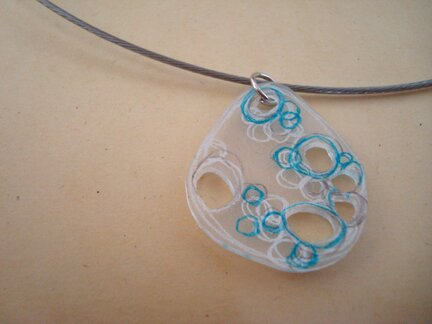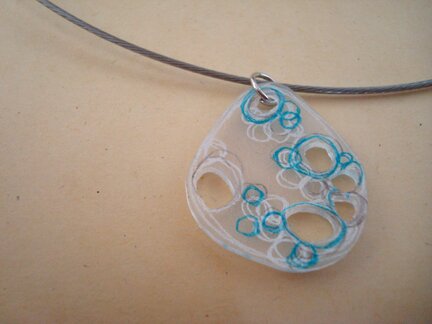 More necklaces. The one on the far left was a bit of an experiment of plastic fusing. According to the list of "Mind-shrinking Ideas" (that's what it says on the package of shrink plastic I have), I can fuse layers of shrunk plastic together under higher temperature in the oven. The round shapes are actually circles from the hole punch.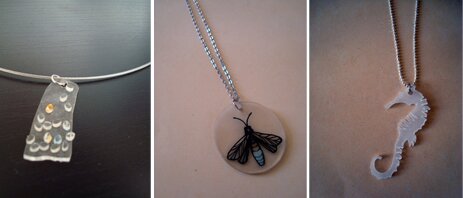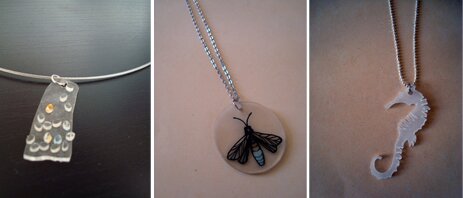 The middle one is a firefly that glows in the dark! :D And I've always been fascinated by seahorses.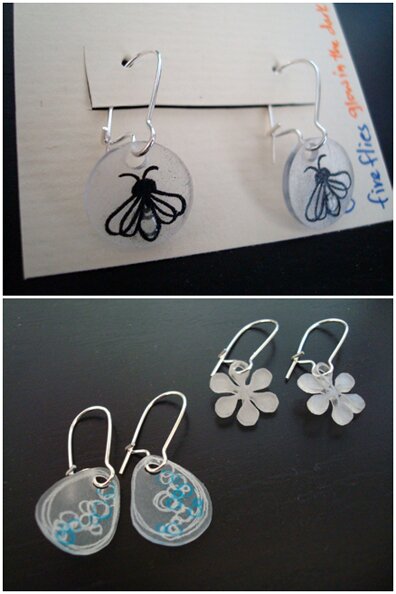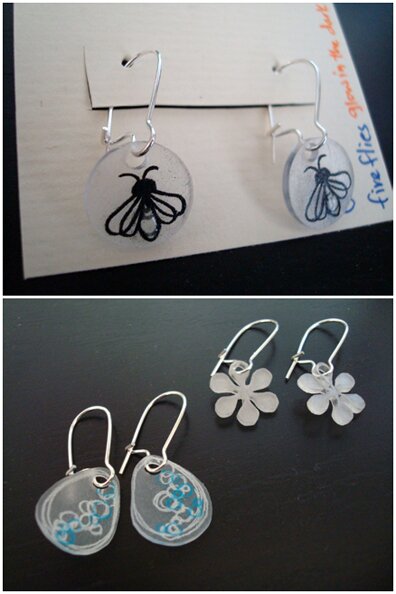 More glow in the dark fireflies, asterisks, and abalones.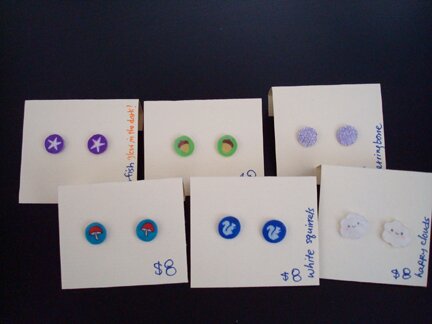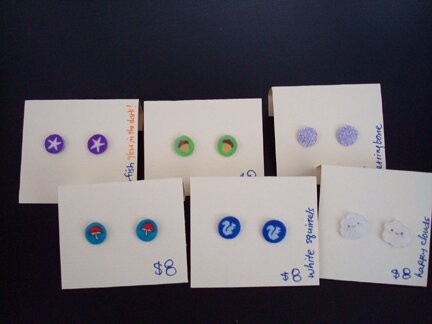 Had fun coming up with things to draw for the stud earrings :D Actually, as I'm looking at this picture I realize that all of these are my favourite things… let's hope the shop visitors like them as much as I do. And the starfish glows in the dark too!
Alright, enough of this talk about glowing in the dark — wanna see them in action? :D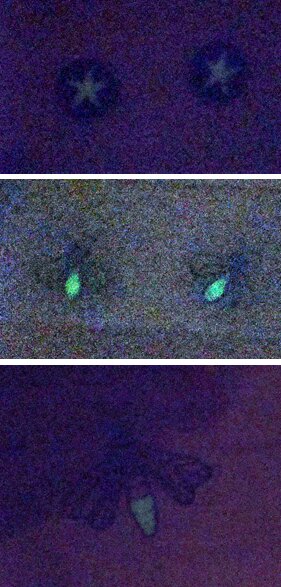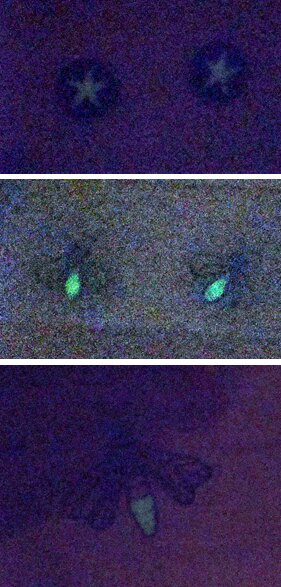 That's the best my point-and-shoot camera can do for capturing images in the dark, but they really do glow! I was quite impressed.
(I found out that the emission of light by a living organism is called bioluminescence — isn't that such a cool word?)
Anyway. And then I thought it would be cool to make a plastic feather. Kind of like those leather feather earrings that I've seen a lot on craft blogs. But they turned out so much more beautiful than I thought because of the way the plastic twists and turns as it shrinks in the oven…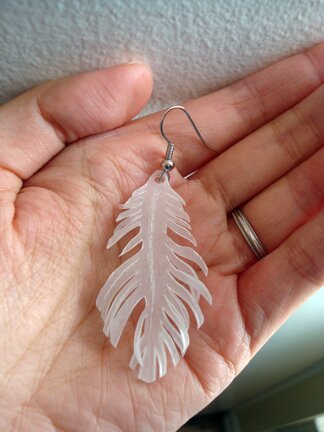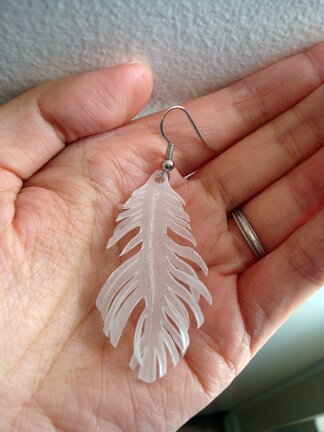 So I did what most craft sellers often do.
I kept it. For myself.
Ha!
The single earring goes with my haircut :D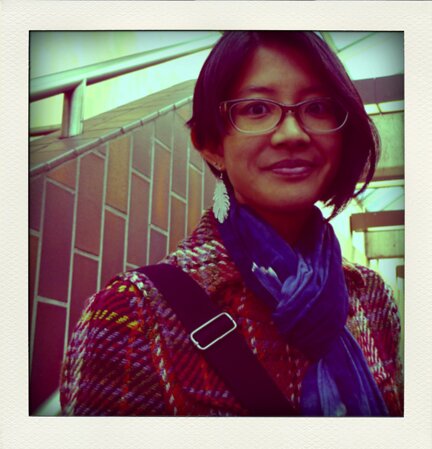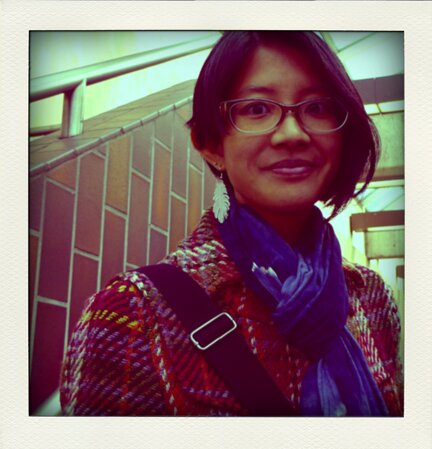 But of course I made another set for the shop. Even added a glittery button stud earring to make a funky asymmetrical set! :D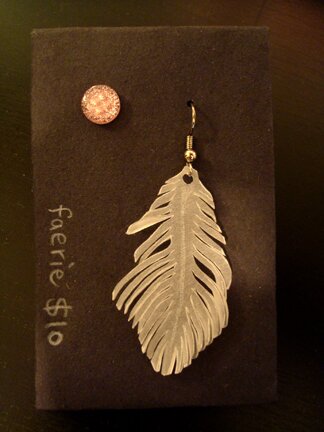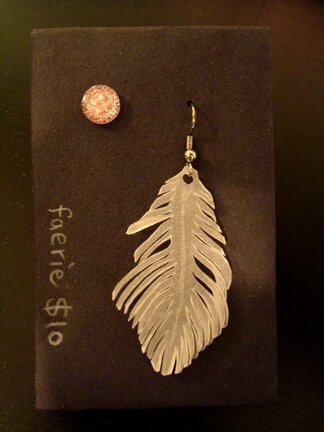 I'm hoping that this will keep the shop full for a month or two before another school break. But I've got to say that I really, really, really enjoy the opportunity to make my favourite things without having to keep (and find place in the apartment for) all of it. And making a bit of money is always a bonus.
Have an awesome evening! :D