It would be so much fun to orga­nize a weav­ing par­ty! :D
A com­ment from a blog vis­i­tor, Kate, has moti­vat­ed me to just pick up some yarn and start weav­ing. Thanks, Kate! :D
I found a paper plate and cut notch­es all around it, about 1″ apart, and then taped lengths of cot­ton string across, like so…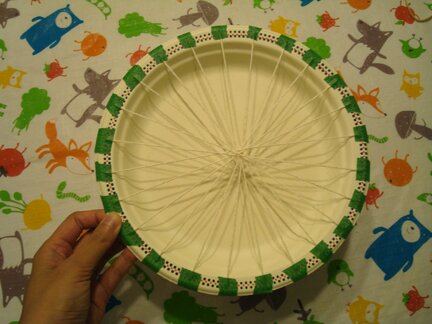 Here's the back of this make-shift loom…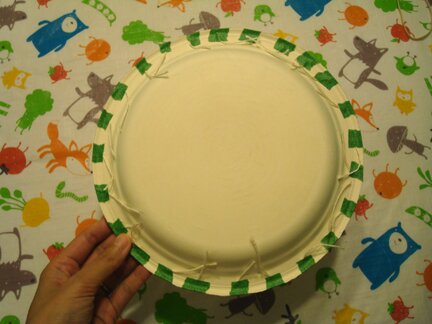 Then I just tied a length of yarn to one of the strings in the mid­dle and start­ed weav­ing between the strings, over and under, over and under, over and under… Until I ran out of the colour of yarn I was using, then I tied a dif­fer­ent colour of yarn to the yarn tail, and con­tin­ued weaving…
When I've got­ten a big enough cir­cle (I decid­ed that I want­ed to make a coast­er half way through), I cut the strings near where they're taped to the plate, one at a time, and tied each loose end to the last round of weaved yarn.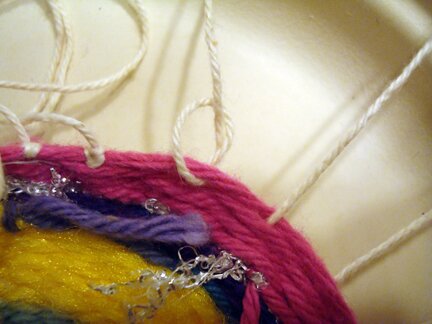 I hid all the loose ends and yarn tails under a piece of felt, which I cut to the size of the fin­ished weav­ing and sewed onto the weav­ing around the edge.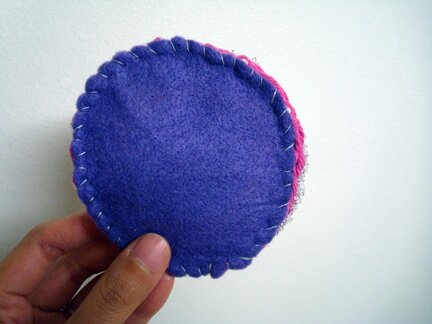 And this is the front!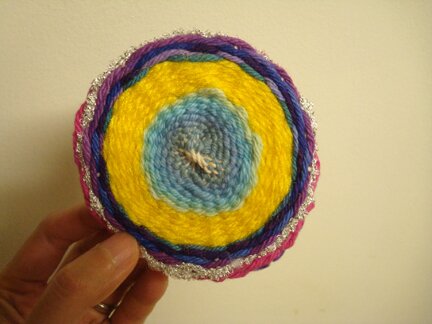 A fun par­ty coast­er :D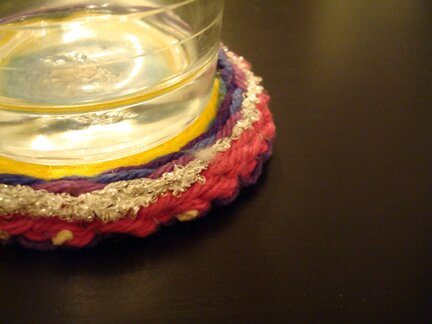 Did it all while watch­ing TV. Very relax­ing. I think it would so much fun to orga­nize a weav­ing par­ty, where every­one can weave and chat.
Have a great evening, everyone!