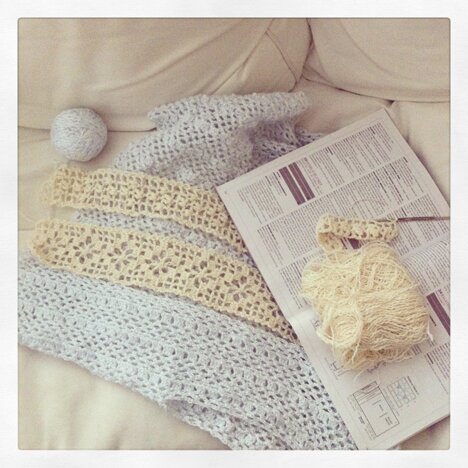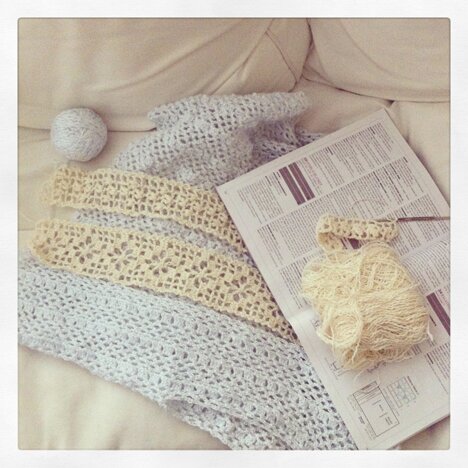 So grateful that my blogging friend Amy has invited to the crochet-along at the yarn shop she works at! :D I don't think I've had that much fun for a long time, chatting about everything from bacon to sweet gum trees and the structure and weight of yarn… laughing and learning (I've never heard of sweet gum trees, and have been making sweaters that look odd never realizing that the oddness is caused by a mismatched fiber substitution!) while getting lots done on my project :D Such a wonderful, warm, friendly and funny group of people! And as someone whose main line of work at the moment is to run expressive arts groups, it's just REALLY nice to be a participant once in a while rather than a facilitator.
And I even got a tour of the yarn shop, it's really an AMAZING yarn shop! I wish I live right next to it. I'd just go and hang out there. Amongst the yarn. And feeling blissful. It's not just the rows and rows of colour-coordinated yarn of all sorts of weight and fiber and brands, but there's so much love poured into taking care of the yarn and making it a welcoming, creative place for visitors. The staff are so knowledgeable! They even have buttons! Buttons! SO! If you're ever in St. Louis, be sure to check out Knitorious! :D And if you can't get to St. Louis for a while, check out Amy's blog instead, it's hilarious with lots of crafty goodness, always makes me smile :D
Oh yes, this is what we're working on…
The swing jacket from the 2013 issue of Vogue crochet! :D
I think I want to pair it with a green dress and wearing it to a wedding in August. Maybe I'll have a sewing project coming up next…
Will keep you posted! :D Wishing you a wonderful weekend full of creative goodness!