Ever watched Pocoyo?
I caught it once while babysit­ting a few years back. I love the clay­ma­tion-like ani­ma­tion and the char­ac­ters and sto­ries are so incred­i­bly cute! (He has a blog too but it's in Spanish.)
Any­way, I want­ed to make hats for my friends' chil­dren and decid­ed to use this quick and easy pat­tern to make them. After two days of mad­ly cro­chet­ing here they are, on a make-shift snowy back­ground that is the back of my table cloth :D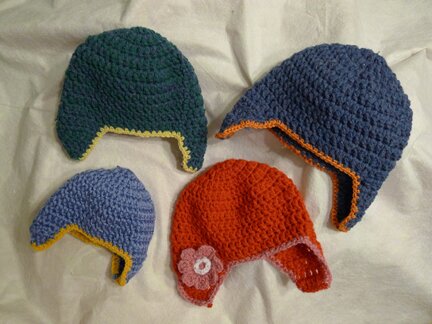 The pat­tern was indeed quick and easy as it promised. I actu­al­ly made the infant one from start to fin­ish on a 1 hr. sub­way ride. I also skipped the ties at the end of the earflaps because in my expe­ri­ence the ties always get caught in the zip­per of my coat. And with­out the ties they remind me of Pocoy­o's hat. See?
So, I had to make myself one too :D With an addi­tion­al row or two it fits me per­fect­ly. Plus, recent­ly I left my hat and mitts at a friend's and won't get them back till the new year, so I need a new hat. I also left my trusty pink cam­era at my par­ents' (what's with me leav­ing my stuff behind these days?) so I used Mike's web­cam. (The group of hats pic­ture was tak­en with his super cam­era too! It cap­tures the red very nicely.)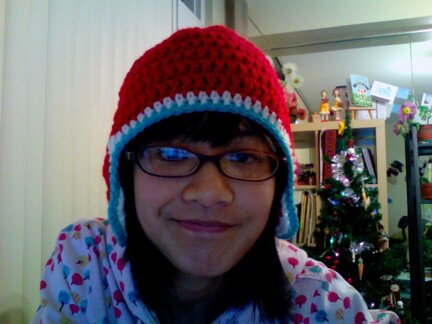 Thank you for vis­it­ing gen­uine mud­pie this year! Wish­ing every­one a joy­ous, warm and peace­ful holiday!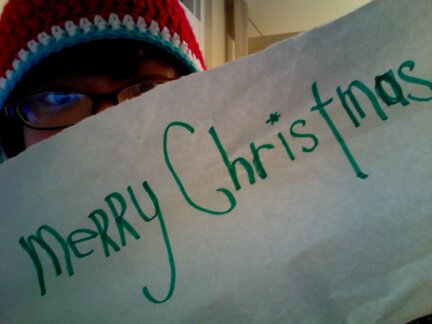 ¡Feliz Navi­dad!