Guess what Marshie got in the mail yesterday?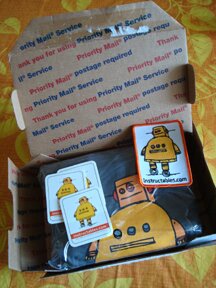 An Instructa­bles gift pack for win­ning the Crit­ter Con­test! :D
There were stick­ers, a batch, and a t‑shirt!
The t‑shirt did­n't fit Marshie. So he gave it to me.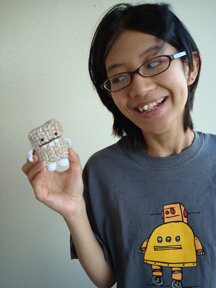 "Way to go, Marshie!" says me.
"Thank you! What a won­der­ful sur­prise," says Marshie.
At the end I decid­ed to give the t‑shirt to Mike because he likes fun­ny t‑shirts and it fits him bet­ter, and because he's nev­er stopped encour­ag­ing me and sup­port­ing me to make things and write just for the love of it. With­out him Marshie would­n't have exist­ed. None of my crafts would've exist­ed. I would prob­a­bly still be feel­ing drained and unmotivated.
"So, thank you, Mike!" says me.