Our pow­er went out the oth­er day for sev­er­al hours. So, no TV, and no com­put­er. Try­ing to find some­thing to do that does­n't require elec­tric­i­ty, I decid­ed to replant our Christ­mas Cac­tus, which had been con­strict­ed in a tiny pot for the longest time.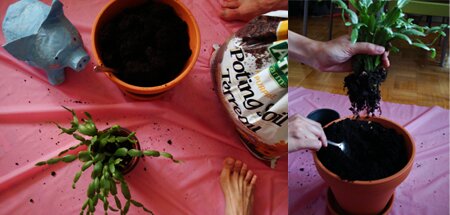 And every time I use that old spoon to move dirt around I think to myself that it's time to get some gar­den­ing tools. It takes for­ev­er to put enough dirt in the pot, one spoon­ful at a time. So, peo­ple dig­ging their way to Chi­na with a spoon is def­i­nite­ly a myth…
And every time the pow­er goes out I'm remind­ed of how much I'm depen­dent on elec­tric­i­ty and how I should nev­er take my unlim­it­ed access to elec­tric­i­ty for grant­ed. And I'm grate­ful for the tem­po­rary loss of pow­er because oth­er­wise I would nev­er get around to replant­i­ng the Christ­mas cac­tus. There are always things to do on the com­put­er or anoth­er episode of CSI I've nev­er seen before (which is rare, but I do come across them once in a while).
The Christ­mas cac­tus is look­ing a bit droopy in the new pot at the moment, hope­ful­ly it will look bet­ter when it gets more set­tled in the new dirt.
Anoth­er activ­i­ty that did­n't require elec­tric­i­ty was sort­ing the wild flowers/plants that I picked over the week­end. I pressed them for the resin work­shop I was tak­ing this week.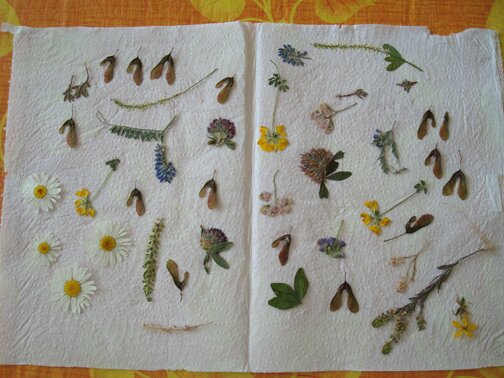 I'm anx­ious to see how they turn out embed­ded in resin! I did­n't use all of them, just the daisies and a maple key and some foliage, but I'm sav­ing the rest for oth­er projects. At the work­shop yes­ter­day we poured resin into the molds and embed­ded bits of paper and oth­er things in them, and now they have to dry for a few days, and then we'll be back to attach jew­el­ery find­ings to them on Fri­day. I will be sure to take pic­tures and let you how it goes!
Here's a star-shaped flower I pressed, spark­ing in sunlight.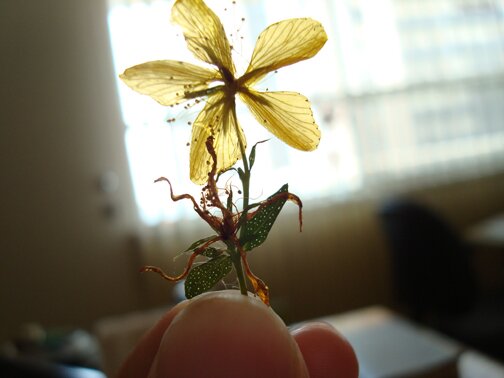 It's been real­ly, real­ly, real­ly hot these past few days. Appar­ent­ly this kind of heat is going to con­tin­ue through­out the sum­mer… which I find a bit scary. I hope every­one is able to find ways to keep cool and stay well!