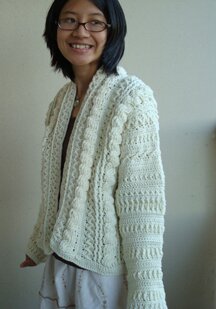 I've finished the Yeti for several weeks now ("the Yeti" is the name of the jacket that I was crocheting, following the Copenhagen Jacket pattern. More about the Yeti story here), but the weather has just been been far too warm for me to want to take photos wearing it. But the humidity has finally gone down today and so did the temperature! And I could finally bear to wear it for a couple of minutes… and so here's a picture of it, finished!
I think this is the longest I've ever spent on a project, it's taken me close to a month! But I'm rather happy with it. I think I will like it even better in the fall, when the weather gets cool. It's a bit stiff because of the vintage acrylic yarn I was using, but hopefully it gets a bit softer when I wear it more.
And here's a picture of it when I finished it several weeks ago, impersonating a Yeti.
Um. Anyway. Hope you're having a great weekend! :D