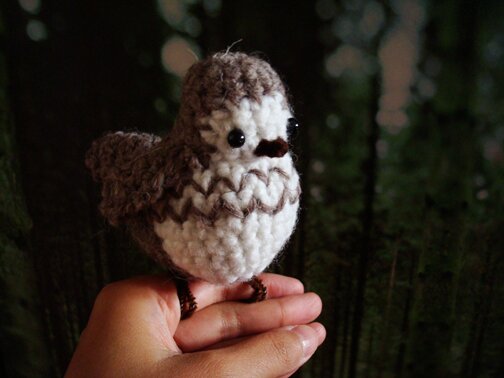 Meet Chuck. He's a sparrow.
He's called Chuck because of the pat­tern on his chest, you see.
And now, let me intro­duce Robin.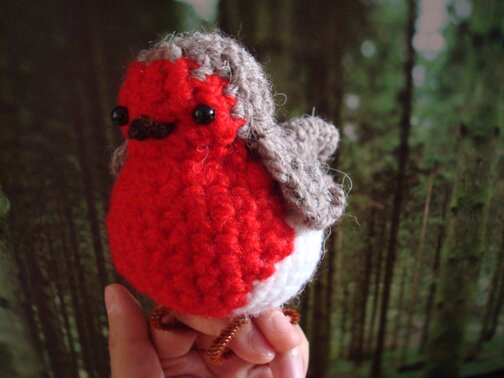 Robin is a very friend­ly robin.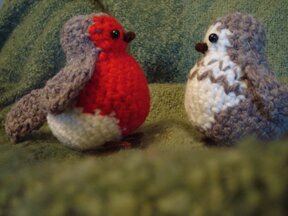 One day, Chuck and Robin ran into each oth­er on their evening walk. (Here's a wor­m's eye view of their encounter…)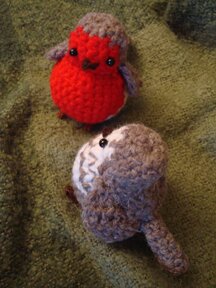 And they got into a long con­ver­sa­tion about the best berry bush­es in the neigh­bour­hood. (Here's a bird's eye view of their conversation…)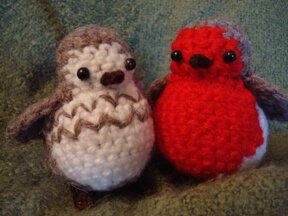 They dis­cov­ered that they have so much in com­mon, they became BBF! (Best Bird Friends)
One LKF (Lit­tle known fact) about Chuck and Robin, is that they're stuffed with this syn­thet­ic sponge mate­r­i­al that I har­vest­ed from the pack­ag­ing for a watch. The sponge mate­r­i­al was made into a box shape orig­i­nal­ly, which I cut into bits.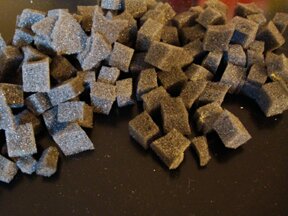 I'm try­ing to avoid buy­ing Poly­ester stuff­ing as much as pos­si­ble, as I real­ize that there are lots of things around the house that can poten­tial­ly be used as stuff­ing. I've been using the cot­ton balls that my par­ents used to sell in their con­ve­nient store over 10 years ago. What else could you use 10+ year-old cot­ton balls in an unsealed plas­tic bag for? They're the per­fect size for my small fridge mag­nets. And also the t‑shirts that are too old and rat­ty for donat­ing. I also plan to shred those and stuff plush­es with them.
Last but not least, I made Chuck and Robin fol­low­ing this pat­tern on Roman Sock. Check out all the cute crit­ters on the blog! Espe­cial­ly the Ulti­mate Squir­rel. I'd love to make an Ulti­mate Squir­rel one day…
Have a hap­py Tuesday!