This year Mike and I decided to make some soap as Christmas presents. We've never made soap before but I did a quick search on the web and it seemed quite simple. I particularly liked this tutorial of snow globe soap, and we thought instead of Christmasy figurines, dinosaurs and farm animals would make pretty awesome snow globe soaps :D
We bought some glycerin from Michaels with a 50% off coupon, because I didn't really know where else one could buy soap blocks…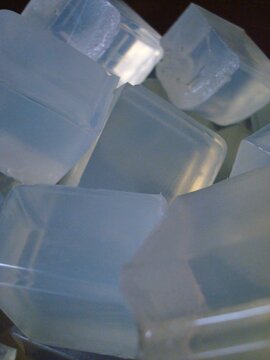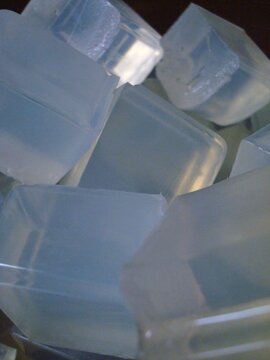 The glycerin looks really cool when it's cubed…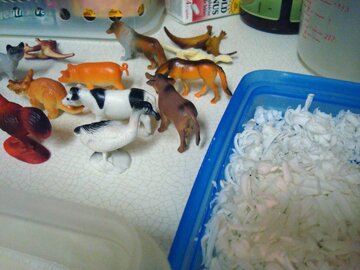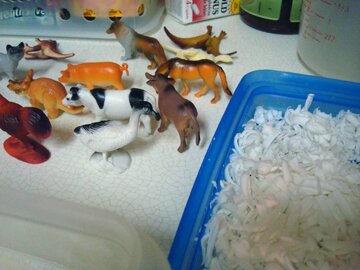 Here are the farm animals we bought from the dollar store. The dinosaurs must have been camera shy and hiding, but we had them too.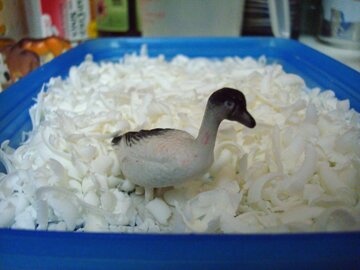 Mike grated some Ivory soap for snow. Here's a goose hanging out in the snow.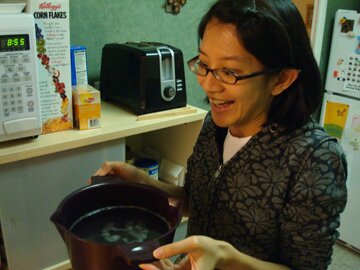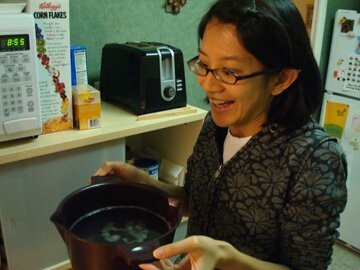 After reheating many, many, many times, all the soap cubes finally melted. So excited! XD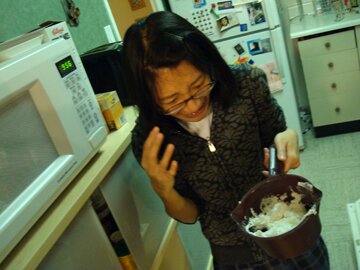 Then, exactly an hour later, my spirit was crushed! It didn't work! Because we used up all the clear soaps and they turned out ridiculous, the animals were frozen in soap sideways or poking their noses out on the side. In desperation I tried to melt the Ivory soap and it was disastrous! Ivory soap isn't for melting, kids.
Anyway, what happened was, the tutorial I was trying to follow suggests inserting the animals upside down into the soap after the soap has set a bit, and then finishing it off with a sprinkle of "snow" (grated white soap) and a bit of melted soap on top. But after a few trials and errors, setting and re-melting, we finally figured that said method didn't work for larger animals (the tutorial makes small soap bars with tiny toys and ice cube tray as mold) because the animals kept sinking to the bottom. It also didn't work if we wanted to make several bars altogether in a block and then cut it after it's set (because we didn't have enough individual molds).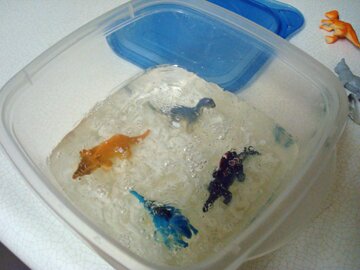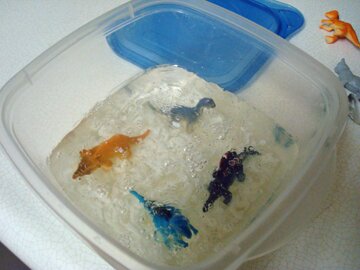 So finally, we melted everything down again. This time we laid the snow at the bottom, poured a thin layer of clear soap on top, waited for it to set a bit (and it doesn't take long), then pressed the animals' feet into the snowy soap, then poured more clear soap on top until all the animals are covered.
And it worked! :D Well, for the most part…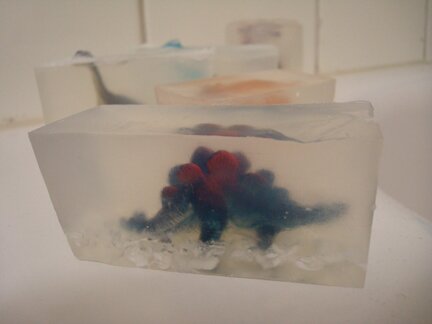 The stegosaurus was probably the best "dinosaur in the snow" soap we made :D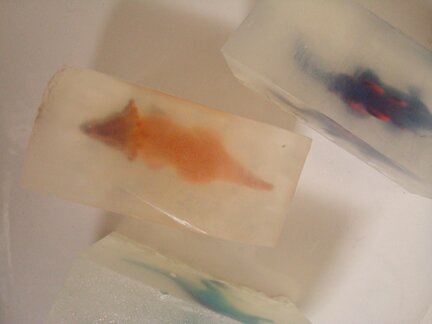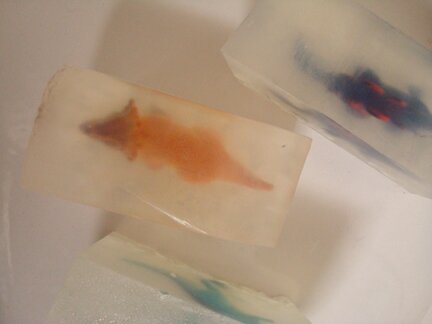 The triceratops was pretty nice too.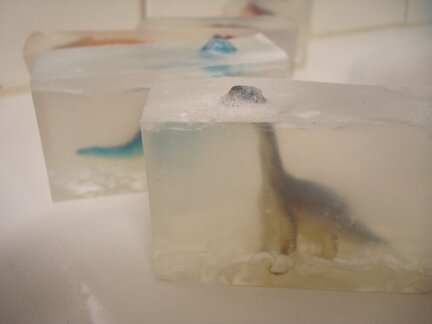 But poor brontosaurus and tyrannosaurus rex, there wasn't enough soap to go around >_< but that's okay, they can be like Nessie, lurking under the water…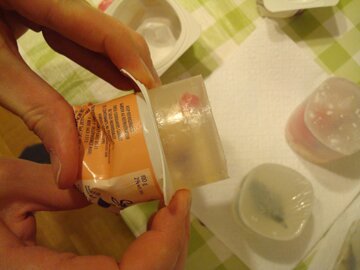 We used some yogurt containers as molds, like push pops :D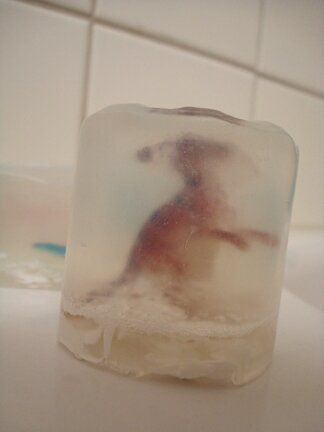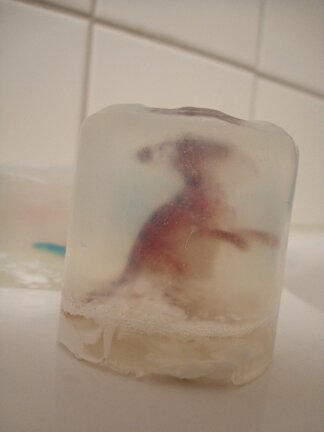 Here's hadrosaur in a yogurt container-molded soap.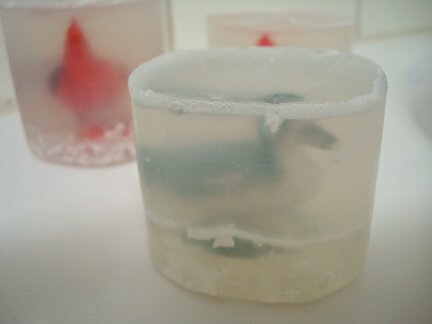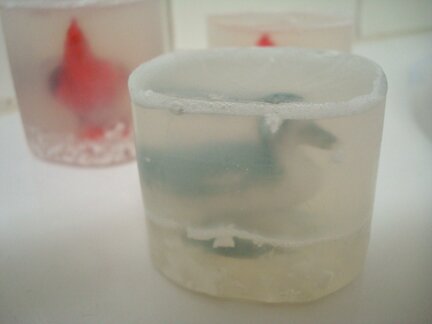 The goose we saw hanging out on the snow before.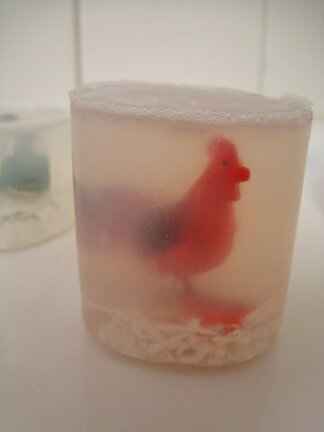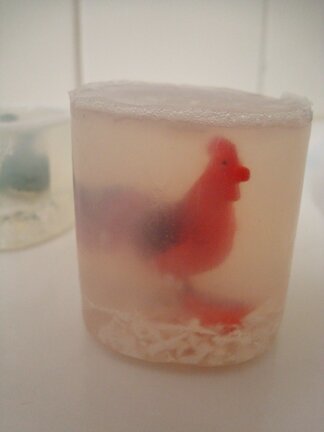 Chicken soap for the soul! XD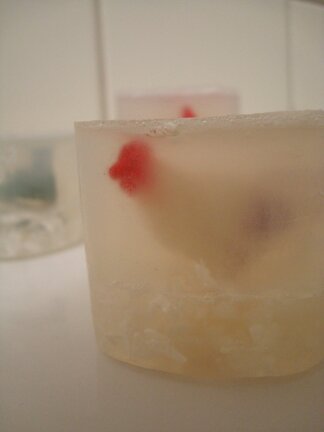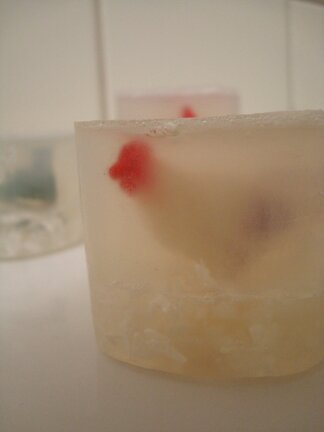 Another poultry, frozen in soap.
(We thought it would look like animals standing in the snow, but they ended up looking more like frozen animals, especially the poultry. And only the chickens and goose would fit in the yogurt containers. We ran out of soap at the point so we couldn't use the pig, cow and horse as planned.)
Oh well. It was fun. Now that we got the hang of it I hope to try again next year, with an underwater theme, incorporating a grainy, exfoliating bottom layer, a bit of blue colouring to the clear soap and plastic sea creatures :D
And I'll need to find another place to buy blocks of soap! A 2 lb. block doesn't go very far and it's rather expensive at Michaels.
This concludes the series of Christmas present posts — next week, new crafts! :D
Have a wonderful week, friends!