Mike is here for a guest post on mak­ing can­died gin­ger and gin­ger ale :D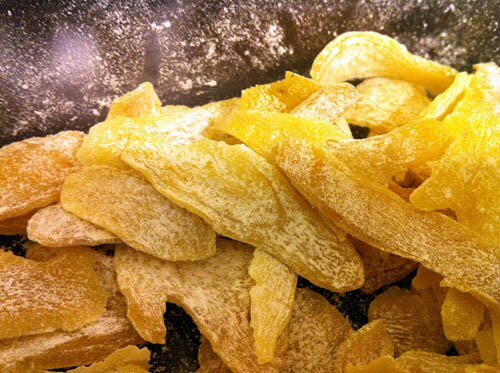 Â
Hi all! For Christ­mas this year, one of my goals was to be less com­mer­cial in my gift giv­ing. A few years ago, Trish gave me some dried fruit, almond but­ter and my favourite tea. An awe­some gift for sure — espe­cial­ly con­sid­er­ing the dried fruit was dried kiwi — but it got me think­ing about how gift gift­ing must have been like 100 years ago. Need­less to say, I'm not a very crafty indi­vid­ual, at least when it comes to yarn, so I was very excit­ed when I stum­bled upon instruc­tions for mak­ing can­died gin­ger.
Equal­ly excit­ing is just how easy it is. Are you ready for this? To make can­died gin­ger at home all you need is:
That's it! Unless you want to make your own home­made gin­ger ale, in which case you'll need some club soda — but let's not get ahead of ourselves.
The first step is to peel the gin­ger (the tuto­r­i­al rec­om­mends using a spoon) and then cut it real­ly thin. Slic­ing it thin is cru­cial. If you cut it too thick, it'll be quite spicy/peppery and take much longer to dry.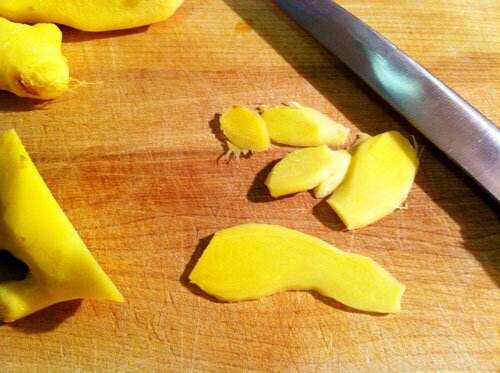 Â
Sec­ond­ly we mix the sim­ple syrup. It's equal parts sug­ar and water. Sim­ple eh? We used about a cup and a half of each, but we were mak­ing a few batch­es and end­ed up reusing the syrup a few times.
Bring the sug­ar-water mix­ture to a boil and then sim­mer the gin­ger for 30 min­utes or until tender.
After the gin­ger is fin­ished cook­ing, strain off any remain­ing syrup and move to a wire mesh or cool­ing rack. Basi­cal­ly the gin­ger needs to be well ven­ti­lat­ed so it can ful­ly dry.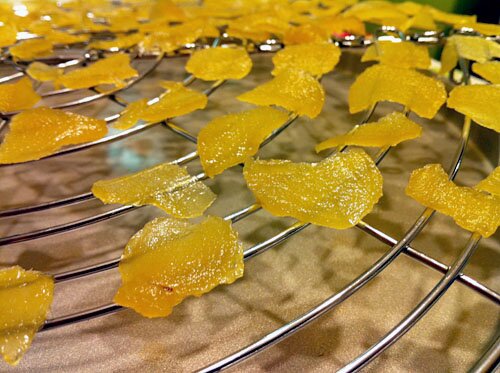 Here's the gin­ger look­ing all syrupy and wait­ing to dry.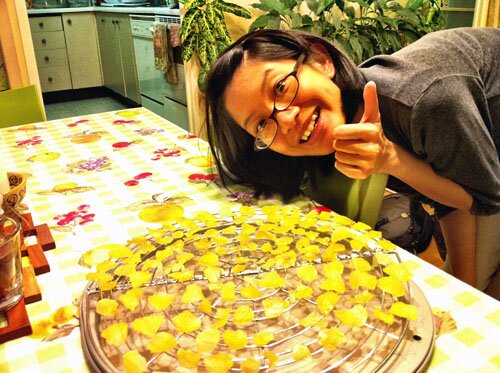 The antic­i­pa­tion!
Once the gin­ger is all nice and dry — about sev­en or eight hours should do — shake it in a large bowl with some white sug­ar until it's com­plete­ly coat­ed. I used half table sug­ar and half icing sug­ar, which gave it a nice texture!
After mak­ing a few batch­es, we saved the gin­ger flavoured syrup to use in tea and to make our own mock gin­ger ale. The gin­ger ale was good, a lit­tle spicy, but not bad.
Â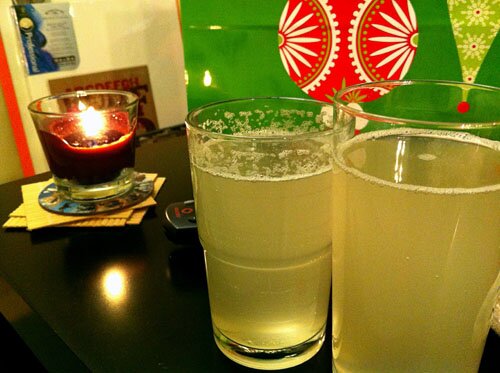 I hope every­one's new year is off to a great start. Cheers!