Beautiful crochet edging. Works for t‑shirt necklines too, you think? From the Purl Bee.
Simply brilliant. Have to dig into my seashell collection! From I Still Love You.
Very well-written, easy to understand tutorial from It's Always Autumn. A trip to thrift store is in order!
Washi tape flowers. Makes a nice pin! From Just Something I made.
Very sophisticated men shirt refashion, with pleats! From Leafy Treetop Spot.
Also spotted on Leafy Treetop Spot was a tutorial for adding Peter Pan collar on a t‑shirt. Not sure how I would look in it, but I think it's a nice way to use pretty fabric scraps.
Enlightening! Why didn't I think of this before? From 13 Life Changing Ways to Eat Food. The toaster grilled cheese is pretty awesome too.
Fun, bold, simple, and oooh — what if the baubles were crocheted? :D Lovely inspiration from The Beautiful Mess.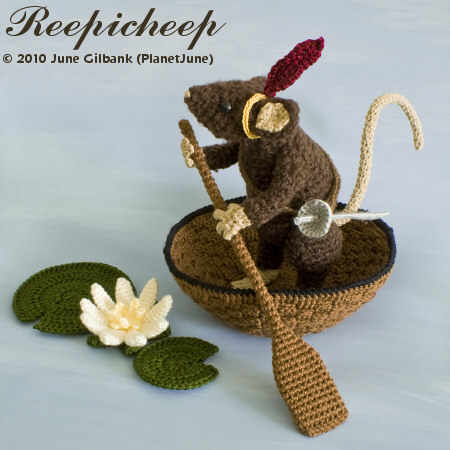 Look! It's Reepicheep! Paddling to Aslan's Country, fearless and valiant… *sniff*
Not a pattern, but we can simply appreciate its awesomeness. By crochet master June Gilbank.
Have an awesome day, everyone!